Interpreting Tracks, Trains and People in the American West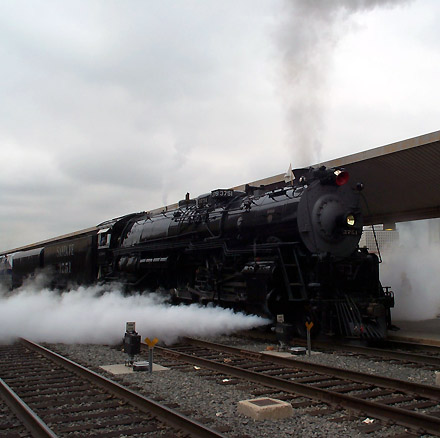 Like the industrial revolution that created it, the steam locomotive and its railroad connected our Nation, forever changed American life, created folk heroes and gave new meaning to the American Dream. Railroads provided faster, safer and less expensive transportation, and played a central role in the development and growth of the farms, ranches, mines, industries, towns, cities and population of California, Nevada, Oregon and the American West.
Technology, Transportation and Growth
Railroads made transportation faster, safer and more affordable, enabling growth in the West. Completion of the first railroad lines reduced travel time from the East to California from weeks or months to about one week. Mail, which had typically taken several weeks to be carried between California and the East, could now be delivered in about one week. Towns were built along the railroad tracks, linked to each other and to the East by the railroad. The railroad depot became the center of activity for many growing towns. Telegraph lines next to the railroad tracks made it possible for news to be sent and received almost instantly at the railroad depots.
In addition to transporting passengers and mail, locomotives pulled carloads of mining and farming machinery, tools, dry goods and supplies from manufactures in the East to western communities. The vast wilderness became transformed into a breadbasket for our nation and a supplier of natural resources and wealth. Carloads of food, lumber, minerals and other goods were carried from the farms, orchards, forests and mines in the West to the towns and cities in the East.
In the expanding cities, the development of street railways enabled people to build homes and live a further distance from the center of town, the streetcars provided reasonable mobility that enabled workers to reach their jobs and downtown businesses.
Railroads and People in the American West
As much as the history of the railroads is a story of technology, businesses and westward growth, is also a human story. The railroads have been a part of family and community memories and stories for the last century and a half, telling of new farms and business ventures, successful crop sales, cattle sales, packages from mail order merchants, mail with news from loved ones, trips to the mountains and beaches, or new toys and trees at Christmas. Memories for many families also include traveling on vacation, sending relatives off to school or off to war and returning home on a train. Grandparents may talk about taking streetcars to the store or to work each day. The time zones we know today became standard to enable the safe movement of trains.
Many families trace their roots to immigrant ancestors who settled in the western states, arriving aboard a passenger train with a vision of a better life.
Some families include absorbing stories of grandparents or uncles who worked for a railroad company, building the railroads, operating trains, serving passengers, picking up and delivering mail or freight, maintaining track, or working in the depots and maintenance facilities. Union workers trace their union origins to railroad unions.
Preserving and Interpreting the History of Railroads in the American West
The telling of history throughout the ages helps people understand how our society got to where it is today, allows us to honor our past and gives us a sense of direction as we look toward the future. History has been passed on from generation to generation. Families pass information about ancestors on to their children. Libraries, corporations and other organizations preserve written documents, photographs and records of past activities.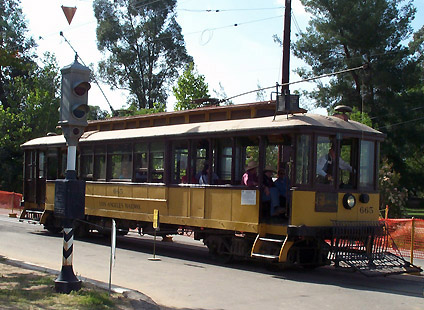 This web site is written for those who preserve, interpret and teach history, particularly the history, people and technology of railroad transportation in California and Nevada.
Railroad museums and heritage railroads throughout the United States acquire, preserve, research and exhibit objects from the past. Museum volunteers and professionals also gather oral histories and traditions, supplemented by written material and photographs. Using the museum collections, interpreters help people understand the railroads, how the railroads have been used, and the evolving impact of the railroads on the American West.
Interpretation is different than typical classroom education, it helps to reveal meanings and relationships through the use of original objects, firsthand experience, and illustrative media. When possible, demonstration and participation allow visitors to see and experience how the cars, locomotives and other objects were used by people in the past.
This site includes material originally developed for training docents at Orange Empire Railway Museum in Perris, California. Sections include:
Please join us for a brief look at interpreting the beginnings and life changing impact of these railroads, to their continuing impact today.
"Such easy and rapid communication, with such facilities for exchanging the different products of the different parts, would bring all our immensely wide-spread population together as one vast city, the moral and social effects of which must harmonize all together as one family, with but one interest - the general good of all."
Asa Whitney, National Railroad Connecting the Pacific, 1845
Railroad History Train Technology Railroad Operation Railroad Time Museums & Heritage Railroads Railroads Today



Pacific Time


This web site is presented by Digital Network Express, an information technology consulting group.
Text and photos by Richard Boehle. Entire web site copyright 2002-2014, DigitalNetExpress.com, Burbank, California.