Docents, Hosts Help Museum Visitors Understand the Past
Today's typical museum visitors are looking at items their parents, grandparents and great grandparents grew up with. The majority are from a generation whose only perceived contact with trains has been limited to grade crossings, they didn't grow up riding streetcars to work or to the store, or passenger trains to travel for business or vacation.
Today's typical museum visitors are not nostalgically familiar with many of the items exhibited at museums, including streetcars, interurban cars or the name passenger trains.
Fulfilling Expectations Visitors Bring to the Museum:
Visitors typically arrive at the Museum with many of the following general expectations:
Be able to determine where exhibits and services (restrooms, water, etc.) are located;
Be able to see (possibly ride) locomotives, cars and other railroad related artifacts;
Be able to learn something about the objects in which they are interested;
Be able to safely enjoy the objects;
Be able to learn about our heritage and often about the lives of relatives who used or worked for the railways;
Be able to enjoy the social atmosphere with their family, friends, etc.;
Purchase books or souvenirs of their visit.
Understanding How Ancestors Lived: Surveys conducted at other museums in the last few years have found that visitors to history and technology museums want to know how their ancestors lived. Relevance has shifted from the objects themselves to the people that used them. Who used the exhibited objects, such as the streetcars or locomotives? How and when were they used? Why were these items important in a person's daily life? How did using them change the way people lived?
As visitors learn how their ancestors lived; how they used the street railways, interurban railways, and railroads in the past; and how freight trains contributed to the quality of life of their parents, grandparents and great grandparents, they may also discover the relevance of rail transit and rail transportation today.
Visitors primarily learn by viewing the exhibited cars, locomotives, smaller artifacts, photographs, documents and associated labels to help provide answers to their questions. Shared stories are often a part of this process.
Most museums also provide visitor guides which also help visitors understand the layout and other information about the museum and exhibits.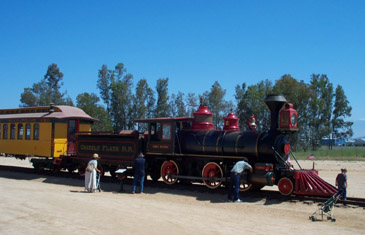 Docents and Exhibit Hosts Assist Visitors
A Docent is one who teaches, typically as a volunteer at a university or at a museum. Docents guide the museum discovery and learning process, using the exhibited locomotives, streetcars, interurbans, sleeping cars, railway post office cars, passenger cars, freight cars, cabooses and other objects through talks, demonstrations and building tours. At Orange Empire Railway Museum and other local museums, docents are members who have completed a training program and have more advanced knowledge about the Museum's collection and the history, technology and impact of the rail transportation industry in Southern California and the West.
Exhibit Hosts are museum volunteers who make the collections available to visitors and help visitors understand how to view the exhibits. Exhibit hosts also help answer basic questions and ensure visitor safety. Exhibit hosts should know the safety rules, exhibit policies, layout of the museum and basic introductory information for area they are hosting. At Orange Empire Railway Museum and other local museums, volunteers first serve as exhibit hosts, then participate in a more extensive development program in order to become a Docent.
Uniformed Conductors, Brakemen, Motormen and Engineers also help railway museum visitors learn what past travel by rail was like as they experience a ride aboard operating historic streetcars, interurban cars and trains. At Orange Empire Railway Museum all members who participate in these roles first go through a railway operations training program.
Docents use Process of Interpretation to Facilitate Learning:
Interpretation of the objects by knowledgeable docents helps the public understand meanings and relationships, what the objects are, who used them, how and when they were used, and why they were important. By using interpretation docents help visitors and other members understand how the objects relate to each other and how their introduction may have changed the way people lived. Docents also help research the history, social impact and technology of the objects. Read more about interpretation.
Pages on rail history, train technology and railroad operation are included as part of this web site to provide an overview of different aspects of the railroads. The majority of these pages were developed from class materials used to train docents who help visitors understand the past at Orange Empire Railway Museum in Perris, California.
To further help docents and other educators learn more about interpretation, the history of rail transportation, and the impact of rail transportation on the West, a recommended reading list is also provided.
Part of the Orange Empire Railway Museum Educational Experience:
The purpose of the Exhibit Host & Docent Program is to support Orange Empire Railway Museum's mission by staffing and interpreting the museum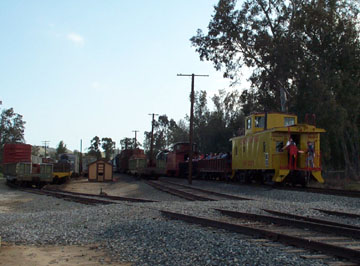 's exhibited artifacts and documents, in order to help museum visitors and members understand and enjoy the history, technology and impact of the rail transportation industry in the development of Southern California and the West.
The Exhibit Host & Docent Program is part of the museum's overall educational activities.
Pinacate Station distributes the Visitor's Guide to Orange Empire Railway Museum, which introduces the museum and its collections, including a map, description of buildings, and an overview of the significance of rail transit to the development of the West.
Introductory information is available at the entrance to each building. Exhibited cars, locomotives and other objects have a descriptive label. Docents and exhibit hosts are available in each major building.
Visitors can learn what it was like to ride in streetcars first hand on the Museum loop line. Conductors point out the major buildings and exhibits at the museum as they proceed from car stop to car stop. Conductors also discuss the car being used and the LA Railway.
Passenger and freight trains running on the main line provide a brief firsthand experience of railroad travel. The main line is on a portion of the original Atchison, Topeka & Santa Fe transcontinental mainline between Kansas and San Diego.
The revised Railway Odyssey; a Guide Book to Orange Empire Railway Museum, provides more detailed information about the history of the railways and about Orange Empire Railway Museum.
The Exhibit Host and Docent Program, and Railway Operations are both part of Museum Services at Orange Empire Railway Museum.
"Upon the subject of education... I can only say that I view it as the most important subject which we as a people can be engaged in. That every man may receive at least, a moderate education, and thereby be enabled to read the histories of his own and other countries, by which he may duly appreciate the value of our free institutions, appears to be an object of vital importance, even on this account alone... For my part, I desire to see the time when education, and by its means... enterprise and industry, shall become much more general than at present..."
Abraham Lincoln, New Salem, March 9, 1832.
Railroad History Train Technology Railroad Operation Railroad Time Museums & Heritage Railroads Railroads Today
Photos and text by Richard Boehle
Entire web site copyright 2002-2013, DigitalNetExpress.com, Burbank, California.