A Visit to Orange Empire Railway Museum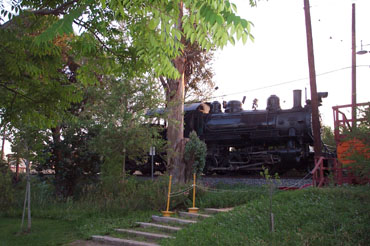 The beckoning sound of a steam whistle breaks the morning silence. Glancing at his pocket watch, then looking up, a uniformed conductor calls out "all aboard" as a train prepares to depart from the red brick Santa Fe Depot in Perris, California.
As a family boards a caboose at the end of the train, a grandmother is overheard describing how she rode in cabooses as a young girl when her father worked for the railroad. The engineer again sounds the whistle and begins ringing the steam locomotive's large brass bell. The powerful locomotive chuffs, then chuffs again, as it begins to move forward. A scene from the long lost past? Yes and no.
Thousands of steam locomotives once pulled trains transporting freight and passengers throughout the West each day. Today Orange Empire Railway Museum's Ventura County No. 2, which was built in 1922, is one of only a handful of surviving steam locomotives operating in Southern California.
Rail Festival each April features rides and entertainment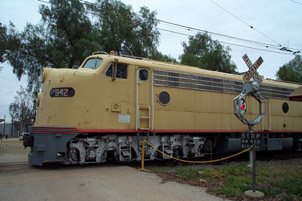 This family is visiting Orange Empire Railway Museum on its annual Rail Festival Weekend, held each Spring. In addition to the passenger-carrying freight train pulled by the steam locomotive, the Rail Festival also features vintage passenger trains pulled by early diesel locomotives, carrying museum visitors south from the Santa Fe Depot in Perris to the museum grounds. The passenger cars and diesels are from a variety of western railroads.
The Rail Festival also includes rides on a variety of restored trolley cars, emphasizing the "yellow cars" from the Los Angeles Railway providing transportation throughout the Museum grounds. Interurban "red cars" from Southern California's Pacific Electric Railway are also featured.
Special exhibits, music, entertainment, food, and refreshments will also be part of the event.
Museum Collections Provide View of Local History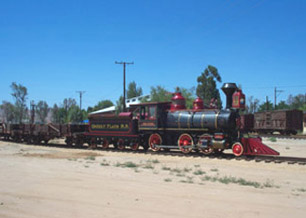 The largest operating railway museum in the West, Orange Empire Railway Museum provides a look at the history and impact of rail transportation in the western states. It preserves and exhibits a wide variety of locomotives, passenger and freight cars, buildings and other artifacts from steam, electric and diesel railways dating from the 1870's. Operation of the restored historic locomotives and cars by uniformed museum volunteers allows visitors to ride and experience history as well.
The museum's Alpine Car House features a variety of street cars, containing a collection of "yellow cars" from the Los Angeles Railway. Several of the "yellow cars" are restored to operating condition, and transport Museum visitors around the Museum grounds on weekends and most holidays. Horse cars and a cable car are also exhibited in this Car House.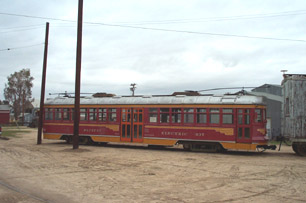 Another car house and its adjoining yard contains suburban and interurban electric railway cars, including several "red cars" from the Pacific Electric Railway. The Pacific Electric was considered the greatest interurban electric railway in the world, providing fast reliable service connecting many cities throughout Los Angeles, Orange, San Bernardino and Riverside Counties. Several "red cars" are restored to operating condition and offer rides on the "mail line" most weekends.
The Hugh Smith Car House and adjoining yard includes passenger cars which once provided the primary means of travel throughout the west. Several freight cars are also exhibited, which transported livestock and agricultural products to eastern markets, and eastern manufactured goods to markets in the west. The railroads made transportation faster, safer and more affordable and are credited with much of the economic development of the region. Many of these cars will be carrying passengers during the Rail Festival.
The Grizzly Flats Enginehouse, funding for which was provided by the late Disney animation artist Ward Kimball, features nineteenth century narrow gauge artifacts including a steam locomotive, passenger and freight cars. Several of these cars are from the Southern Pacific narrow gauge line, which connected the California's Owens Valley with western Nevada.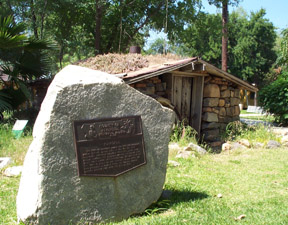 Orange Empire Railway Museum is located on the site of Pinacate, a nineteenth century mining supply town which in 1882 became one of the initial station locations on Santa Fe Railway's original transcontinental line which terminated in San Diego. The museum's mainline follows the original Santa Fe right of way. Two buildings from the original townsite still remain. Other early buildings from the local area are also preserved on the Museum grounds.
Late in 1885 a title dispute arose over land at Pinacate. In April 1886 the station, siding and water tower were relocated about 1 1/2 miles north to the new town of Perris, named after Fred T. Perris, then chief engineer of the California Southern, a Santa Fe subsidiary. The red brick depot in Perris was completed in 1892. The Perris depot is preserved in part by the Museum.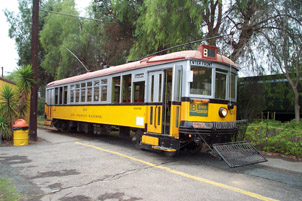 Pinacate Station, the Museum's book and gift store, and the museum grounds are open daily from 9 a.m. to 5 p.m. On weekends and major holidays Museum exhibit buildings are open. A passenger carrying freight train, streetcars, and interurban electric cars operate on weekends. Also on weekends, volunteers can be seen working on locomotives, cars, buildings or track using many of the tools and techniques used by the railroads.
Orange Empire Railway Museum is located at 2201 South "A" Street in Perris (17 miles south of Riverside on Highway 215).
To plan your visit, you can view an online copy of the Visitor's Guide To Orange Empire Railway Museum.
For more information about Orange Empire Railway Museum upcoming events, visit the Museum's website: www.oerm.org or call (909) 657-2605.
Orange Empire Railway Museum's mission is to "preserve and display artifacts and documents of the rail transportation industry in order to educate the public on the technology, history, and impact of the rail transportation industry in the West and more specifically in southern California."
Preservation: Rail Transportation Museums Heritage Railroads Depot Museums American West History Museums
Sharing A Heritage Railroad History Train Technology Railroad Operation Railroad Time Museums & Heritage Railroads Railroads Today



Pacific Time

Text and photos by Richard Boehle.
Entire website copyright 2002-2014, DigitalNetExpress.com, Burbank, California.