Electric Interurban Railways Connect Cities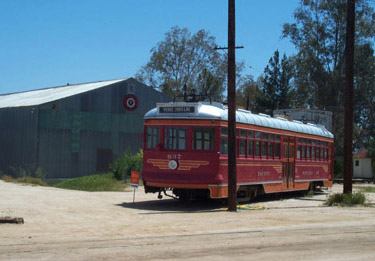 In some of the larger urban areas in the United States electric street railways grew beyond the metropolitan areas to connect with other urban centers. "Electric Interurban" railroad networks connected urban areas in the states of California, Oregon, Texas, Illinois, Indiana, Ohio, Pennsylvania and New York. Interurban Railways allowed people to live in the outlying cities and developing suburbs while working and transacting business in the central city.
Interurban railway lines run between cities, while streetcar lines provide service within a city. George W. Hilton and John F. Due, in The Electric Interurban Railways in America, define an interurban as a system which shares most or all of four characteristics:
Electric power
Passenger service as primary emphasis
Heavier, faster equipment than urban streetcars
Operated on street trackage in cities but on roadside tracks or private rights-of-way in rural areas
Two inventions by Frank Sprague in the 1880's made the electric streetcar practical and efficient. One was a a constant-speed, non-sparking motor with fixed brushes, the most efficient electric motor of the time.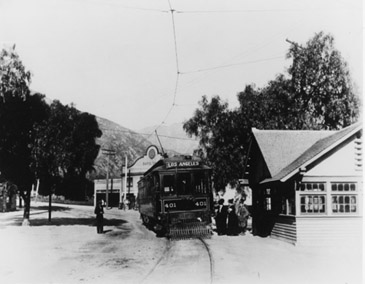 The other was an improved overhead trolley system which used a spring-loaded trolley pole with a wheel to travel along the overhead wire or catenary to collect electricity.
The term Interurban was first applied to the streetcar line which connected Minneapolis and St. Paul, which began service in 1890. Urban growth and the more widespread availability of electric power during the 1890s, made the growth of electric interurban lines possible and practical. These interurban electric railway lines were typically built using standard gauge (4 feet 8 1/2 inches) track, allowing freight cars to be interchanged with the main line railways.
Most interurban railways in North America were electrified using low-voltage direct current systems popular with street railways, enabling interurbans to use urban street railway systems with ease. By 1905, 600 volts had become the industry-wide standard. To maintain the voltage over long distances, interurbans typically generated power at higher voltages which was stepped down to the 600 volts needed to power the cars at substations spaced out along the line.
Interurban Electric Railways in Northern California and the Central Valley
Electric railway cars first began service between California cities with the opening of the Oakland, San Leandro and Haywards Electric Railway in 1892.
In 1904 the Northern Electric Railway opened providing electric interurban service from Sacramento,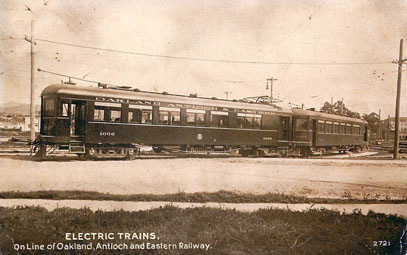 northward through the Sacramento Valley to Chico. This 91 miles long line reformed as the Sacramento Northern Railway in 1918.
In September 1913, the Oakland, Antioch and Eastern Railway opened its 93-mile route from Oakland, across the bay from San Francisco, to Sacramento. Ferryboat service completed the connection to San Francisco. Constructed principally for passenger traffic, nine through trains in each direction sped through this then and still largely unpopulated section of Solano County. In 1919, the OA&E was reorganized into the San Francisco - Sacramento Railroad. At the end of 1928, the railroad was purchased by the Sacramento Northern Railway. The newly merged Sacramento Northern Railway line formed a through route of 184 miles. Passenger service operated from Chico to Oakland until 1941. Freight operation using electric locomotives continued into the 1960s.
The Visalia Electric Railroad, began providing interurban electric rail service in Tulare County in 1908 as a passenger carrier and fruit hauler serving the fruit growing area near the foothills on the eastern side of the Southern San Joaquin Valley, serving Visalia, Exeter and Lemon Cove. Visalia Electric service expanded over the years with additional stops, including Farmersville, Red Banks, Woodlake, Elderwood and Terminus Beach.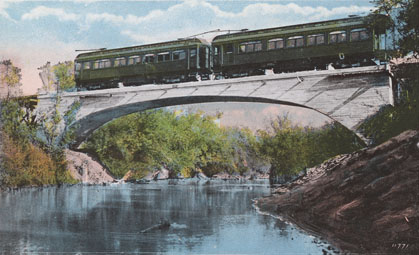 The Central California Traction Company opened a line from Stockton to Lodi which began offering passenger service in September 1907, in direct competition with the Southern Pacific Railroad. The line was extended to Sacramento which opened for service in August 1910. Freight service began to be offered soon after completion of the line to Sacramento. In 1928, the railroad was sold by the original owners and was jointly purchased by the Atchison, Topeka and Santa Fe Railroad, the Southern Pacific Railroad and the Western Pacific Railroad.
The Modesto Interurban Railway was incorporated in March 1909 to link Modesto with the Santa Fe Railway 5 miles to the east at Empire. The line opened in 1911. In November 1911 the Modesto & Empire Traction began leasing and operating the railway. Passenger service was the primary service when the line opened, but passenger service only lasted until 1917. Freight service continued, changing to diesel-only operation in March 1952.
Interurban Electric Service in Southern California
Interurban electric service in Southern California first began in May 1895 with the completion of the Pasadena & Los Angeles Electric Railway by Moses Sherman and Eli Clark. This line was completely electric by 1897. In April 1896, Sherman and Clark opened the Pasadena & Pacific Railway line from Los Angeles to Santa Monica. Both were merged with several other lines to form the Los Angeles - Pacific Railway Company in January 1898. A popular scenic tour, the Balloon Route, was promoted by The Los Angeles - Pacific which ran from downtown through Hollywood, Santa Monica, Venice Beach, Redondo Beach and back to L.A. via Culver City.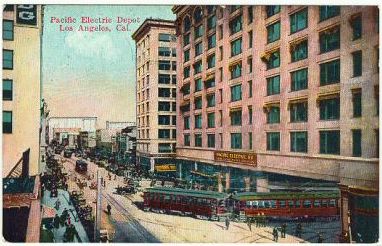 Pacific Electric Railway Company was incorporated by Henry Huntington on November 10, 1901. Pacific Electric took over the Los Angeles-Pasadena interurban line, then built a new line, between Los Angeles and Long Beach, which opened on July 4, 1902.
The Pacific Electric grew to become the largest interurban system in the world, spanned 1,100 miles, operating 1,200 cars throughout Southern California and was the primary means of transportation in the pre-freeway age. The PE provided fast efficient passenger and freight interurban transportation Los Angeles, Orange, San Bernardino and Riverside Counties, making commuting within minutes possible. Suburban towns sprang up and developed along the PE rails. The Pacific Electric also ran one of the few electrically-powered Railway Post Office routes in the country. more
The California Pacific completed a line to San Pedro in 1902. The railroad was organized by William Hook who was also running the Los Angeles Traction Company streetcar lines in Los Angeles. In April 1903 Harriman acquired both companies.
The San Diego Electric Railway Company, which had been providing city street car service in San Diego since 1892, opened an interurban line to the future community of Mission Hills in 1907. An expansion to Mission Beach ("Belmont Park"), Pacific Beach, and La Jolla was completed in 1925. SDERy's routes operated throughout the greater San Diego area over some 165 miles of track.
The Glendale and Montrose Railway company provided interurban electric railway service from Los Angeles to La Crescenta, California, via Glendale and Montrose from 1916 to about 1930.
Decline of the Interurban Railways
During the 1920s the popularity of automobiles increased and service to some communities was discontinued. The Great Depression during the 1930's also caused ridership to drop. For lines still operating passenger service, World War II brought a brief resurgence in popularity to rail travel, ridership numbers hit an all-time high in 1944. But by the 1950s it was clear, however, that the automobile had become the premier means of travel in most California cities. Generally, lines with a significant amount of freight service survived, ultimately becoming short line freight railroads or being absorbed by a larger railroad.
Orange Empire Railway Museum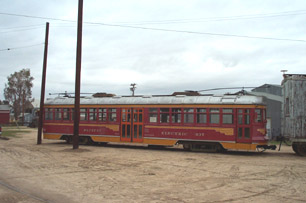 Orange Empire Railway Museum's interurban collection includes wooden and steel electric interurban passenger cars, electric locomotives, freight cars and maintenance of way cars. The core of the museum's interurban railway collection is the "Red Cars" from the Pacific Electric Railway. Several other electric interurban railways are also represented. These cars are exhibited in Abbenseth Car House No. 2 and its yard, Hugh Smith Car House No. 4 and its yard and elsewhere. Labels provide information about the each car or locomotive.
Smaller interurban transit objects, including tokens, coin changers, punches, uniform parts and rule books are displayed in the Middleton collection.
An interurban car is operated on the museum's mainline offering visitors a first hand interurban experience, much like the city street car experience provided on the Pinacate loop line. Interurban cars typically alternate trips with a train composed of historic equipment and passenger carrying flat cars.
Railroad History Train Technology Railroad Operation Railroad Time Museums & Heritage Railroads Railroads Today

Top photo Richard Boehle, second unknown, middle vintage postcards, bottom photo by Richard Boehle, text by Richard Boehle
Entire web site copyright 2002-2013, DigitalNetExpress.com, Burbank, California.