Railroad Stations become the Center of the New Towns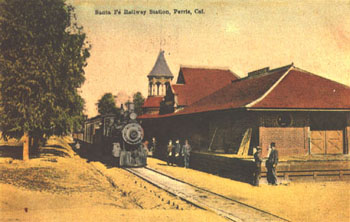 Railroad stations served the railroad as a telegraph and train order office, many had a siding for trains to pass and a water tower to refill a steam locomotive tender with water. Most passenger stations included a ticket counter, baggage office, express office and post office. Railroad stations also served the developing western communities as a center for news, transportation and commerce. A railroad station often reflected the stature of the community it served. Larger stations also included waiting rooms for travelers waiting to board trains, some
Each small town along a rail line had a railroad station or depot. A typical small town depot paralleled the railroad tracks. At one end was the freight room, which had a pair of scales on wheels for weighing whatever needed to be shipped: dairy cream in heavy cans, crated animals, baled hides, furniture, machinery. At the other end was a waiting room for passengers, usually with a big pot-bellied, coal-burning stove for heat. Toilets, however, were outhouses, about 25 yards from the depot, with a quarter moon cut in the door.
Most towns had a station agent or agent-telegrapher. The depot office was located next to the passenger waiting room. In this office the station agent typically served as the telegrapher, freight and passenger agent for the railroad and agent for the Railway Express and The Western Union. He also handled the mail for the United States Post Office. Some stations had a telegrapher on each shift around the clock.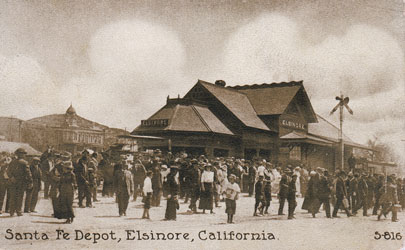 In the United States, a station is technically distinguished from a depot in that a station is a designated stop, with or without a depot. Trains routinely stopped at larger stations, however, in small rural and remote communities passengers wanting to board the train had to flag the train down in order for it to stop. Such stations were known as "Flag stops" or "Flag stations".
In Los Angeles the Los Angeles & San Pedro Railroad tracks were completed to the railroad's new depot at the corner of Alameda and Commercial streets on September 8, 1869. To celebrate the formal opening of the line Banning and the railroad directors invited all of Los Angeles for a free round-trip on the train and a huge dedication ball afterward at the Los Angeles depot on October 26, following the arrival of the railroad's second and larger locomotive, the Los Angeles. Sold in 1873 to the Southern Pacific Railroad, the Los Angeles & San Pedro Railroad continued to operate as part of the Southern Pacific.
In 1876 SP opened the Los Angeles Junction Station (also known as River Station), on the west side of North Spring Street, in an area just northeast of the central city known as "the Cornfield," bound by North Spring Street and North Broadway. The two-story depot offered separate "ladies' and gentlemen's reception and waiting rooms," and by 1883 was upgraded to include a hotel and dining room. Learn more about Southern Pacific Los Angeles Depots.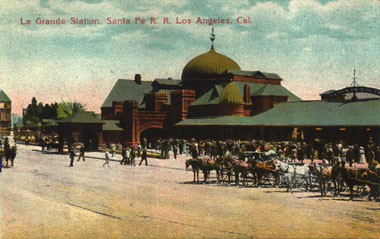 Santa Fe Perris Depot, located at 4th Street in downtown Perris, is a Victorian era combination depot building which served both passengers and freight customers. It was completed for the California Southern Railroad in 1892. Passenger service declined after World War II, and ended in 1947. Freight service continued until declining agricultural business led to the closing of the freight agency in 1969. The depot structure was given to the Orange Empire Railway Museum for historic preservation, it now serves as a functional railway depot for trains to Orange Empire Railways Museum and houses the Perris Valley Historical and Museum Association collection.
Great Depots Built
Santa Fe La Grande Station opened on July 29, 1893. The station was unique for Southern California in its Moorish-inspired architecture. Damage from the Long Beach earthquake of 1933 forced its closure.
Portland's Union Station, with its iconic 150 ft. tall Romanesque Revival clock tower, opened on February 14, 1896.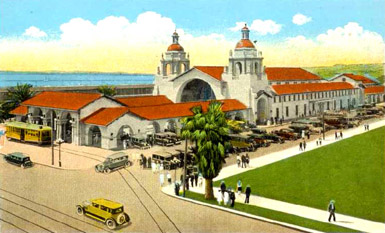 In Seattle, the Great Northern Railroad and Northern Pacific opened King Street Station in 1906. The Union Pacific opened the the Oregon and Washington Station, also known as Union Station, next to the Great Northern and Northern Pacific's King Street Station in 1911.
San Diego Union Station opened in March 1915 to accommodate visitors to the Panama-California Exposition. TheMission Revival styling reflects the colonial Spanish history of California, it was designed by San Francisco architects Bakewell ad Brown.
Built by the Atchison, Topeka and Santa Fe Railway, it replaced a Victorian depot that was erected in 1887 for the California Southern Railroad Company. It also served as a station for the San Diego and Arizona Railway starting with the completion of the SD&A line in 1919, and San Diego Electric Railway streetcars. Today it serves a station for Amtrak, the San Diego Coaster, the San Diego Trolley and the San Diego Metropolitan Transit System busses.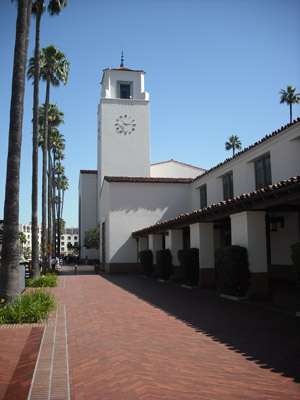 Santa Fe San Bernardino Depot, opened on July 15, 1918 on 3rd Street. The Mission Revival style building was designed by architect W. A. Mohr, at the time it opened it was the largest railway station west of the Mississippi River. An extension which included a Harvey House was added a few years later. The building replaced an 1886 depot that was largely destroyed by a fire in 1916. It currently serves as a depot for Amtrak and Metrolink.
Los Angeles Union Station opened on May 3, 1939 at 800 North Alameda Street. In 1926, Los Angeles citizens voted to approve a union station to consolidate the different railroad terminals. When Los Angeles Union Station opened the Santa Fe, Southern Pacific and Union Pacific all relocated passenger service to the new station. During the 1940's as many as 100 trains arrived and departed daily. The Pacific Electric and Los Angeles Railway also provided interurban and local railway service to the new depot.
Union Station was designed in part by John and Donald Parkinson who also designed Los Angeles City Hall. The structure combines Spanish Colonial Revival architecture, Mission Revival, and Streamline Moderne style. A Harvey House restaurant designed by Mary Colter is located immediately south of the mail building. The lush outdoor spaces were planned by landscape architect Tommy Tomson, who chose a selection of colorful and fragrant plants. Union Station became known as "Last of the Great Railway Stations" built in the United States.
Los Angles Union Station was placed on the National Register of Historic Places in 1980. Today it serves as a station for Amtrak long distance trains, Amtrak California intercity trains, Metrolink, Metro Red and Purple subway lines and the Metro Gold Line. Several bus routes connect at the Gateway Transit Center.
Train Order Stations
Oil Junction Station train order office is from the joint Southern Pacific and Santa Fe Oil City Branch northwest of Bakersfield, it was used for communications and control of trackage. The Oil Junction Station building is now preserved at Orange Empire Railway Museum.
This page is still being developed, please check back again soon.
"Before you can hope to get people to live anywhere...you must first of all show them that they can get there quickly, comfortably, and above all, cheaply. Transportation determines the flow of population." J.D. Spreckels
Railroad History Train Technology Railroad Operation Railroad Time Museums & Heritage Railroads Railroads Today



Pacific Time

Photo (top) Perris Depot courtesy Orange Empire Railway Museum, (2) Santa Fe Depot, Lake Elsinore, vintage post card, RailsWest.com collection, (3) Santa Fe La Grande Station, Newman Post Card Co, Richard Boehle Collection, (4) San Diego Union Station 1920, postcard view, (5) Los Angeles Union Station and (6) Oil Junction photos both by Richard Boehle.
Entire web site copyright 2002-2015, DigitalNetExpress.com, Burbank, California.