Passenger Trains Accelerate and Reduce Cost of Travel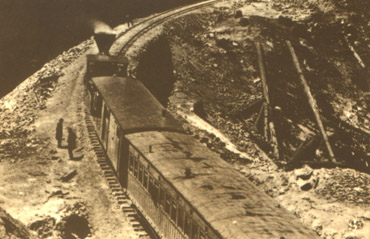 From the humble beginnings of the railroads in America to the era of the streamline passenger trains, the railroads have continued to provide faster, more economical and more comfortable passenger service. Competition from different car manufactures and railroad companies added comfort to the experience.
The first passenger service in the United States was on the Baltimore & Ohio railroad's initial 13 miles long line which began service in 1830, with horses provided the first motive power. An experimental locomotive Tom Thumb was built by Peter Cooper for the line in August 1830, which successfully demonstrated that it could pull 36 passengers at speeds up to 18 miles per hour.
The first scheduled passenger train moved by steam on tracks in the United States was on the Charleston and Hamborg in South Carolina, who opened a six mile long line in December 1830. The train reportedly ran at a rate of 21 miles per hour. Other railroad lines were built during the 1830's and subsequent decades, providing passenger transportation throughout the Eastern states. Early passenger cars varied widely in design during the 1830's, with different companies each trying to create a better design.
Sacramento Valley Railroad provides miners link to river docks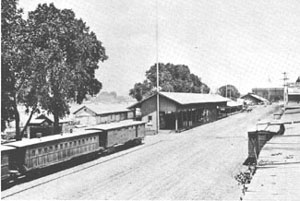 When gold was discovered in California, freight wagons, stagecoaches and privately owned horses provided transportation to the Sacramento-Placer area mining camps. The first railroad in California, the Sacramento Valley Railroad, began hauling passengers between Placer and the river docks in Sacramento in 1855. The railroad made travel faster, less difficult, and more economical than the wagons and stage lines. Several other railroads were built providing similar service between growing communities and river docks or sea ports.
The passenger train would typically consist of a baggage car and one or more arched roof coaches. The same style arched roof cars were in service on railroad lines in the eastern states as well.
Sleeping cars began to be added to long distance trains in the East during the late 1850's, George Pullman's improvements during the 1860' made them more popular.
During the mid-1860's a clerestory roof was introduced providing better ventilation and more daylight inside the cars. Full service Railway Post Office cars were introduced during the same time period.
Passenger Travel between California and the East Introduced
Passenger travel between California and the East became possible by railroad with the completion of the
first transcontinental rail line
at Promontory, Utah on May 10, 1869. Service from Sacramento to Ogden, Utah was provided by the Central Pacific, the Union Pacific provided service from Ogden to Omaha, Nebraska. The Chicago and North Western Railway provided service from Omaha and Council Bluffs, Iowa. to Chicago. Travel time from the East to San Francisco was reduced from weeks or months to about one week.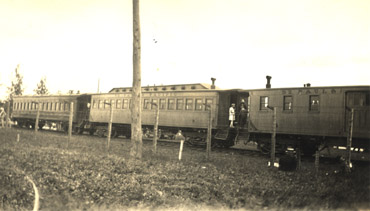 The railroads launched campaigns to attract settlers, printing colorful posters, maps showing the areas for sale and educational booklets to encourage people to settle the West. Agents were sent throughout the eastern states and Europe to promote settlement. Trainloads of immigrants arrived at the various towns looking to build new lives, new farms and new communities along the railroad line. Immigrants were usually charged less for passage, but were relegated to older less comfortable passenger cars.
Southern California and the East were linked in 1876 with the opening of the Southern Pacific line between Los Angeles and San Francisco, allowing much faster travel between the two cities, and between Southern California and the East. The Southern Pacific line continued eastward, connecting with the Atchison, Topeka and Santa Fe at Deming, New Mexico in March 1881, providing passenger service in the Southwest and forming a second transcontinental rail route.
Competition between railroads began in 1885 when the Santa Fe Route connected with its affiliated California Southern Railroad, which ran from San Diego, northward to Pinacate and San Bernardino. The area's freedom from transportation monopolies was assured. Prices dropped, a ticket from the Mississippi River, which had cost $125 was reduced to $25 or less by 1887.
1890's Brings era of Luxury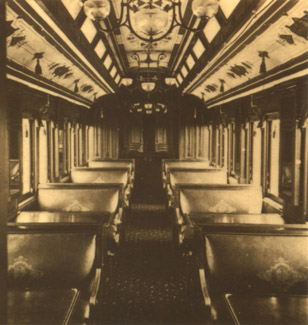 By the late 1880's, the Railroad Companies realized that luxury would attract passenger train customers. Long distance passenger trains evolved into hotels on wheels. Vestibules at the ends of the cars were enclosed making passage between cars safer and more comfortable, starting in 1887. Improvements were made to heating, more luxurious furnishings were added and cars for special functions such as a dining car and lounge car were added, allowing the train to continue traveling without having to stop so passengers could eat at a station.
Named passenger trains were introduced. The Overland Flyer began service in 1887, operated jointly by the Milwaukee Road, Union Pacific and Southern Pacific between Chicago and Oakland, California. The Chicago & Northwestern Railroad took over the Omaha to Chicago segment in 1889, the train was renamed the Overland Limited in 1890.
Atchison, Topeka & Santa Fe introduced the California Limited, train Nos. 3 & 4, between Chicago and Los Angeles on a 2 1/2 day schedule, in November 1892. Allen Manvel, ATSF President, felt they could attract business and enhance the prestige of the railroad by establishing daily, first-class service from Chicago to the West Coast. The California Limited included four sleeping cars, a dining car which featured "the best Fred Harvey food on rails," and a club car.
In 1893 the Southern Pacific inaugurated the Sunset Limited, a luxury first class all Pullman sleeping car train, running from New Orleans to San Francisco via Los Angeles.
The Great Northern Railway's first class Oriental Limited entered service in December 1905 between St. Paul and Seattle. In 1909 the route was extended from St. Paul to Chicago via the Chicago, Burlington and Quincy Railroad.
All steel construction passenger cars were introduced in 1907, replacing wooden passenger cars during the next decade. Interiors typically included electric lighting and were less elaborate, reflecting the changing taste of the time.
Streamline Cars Introduced in 1930's
During the 1930, the railroads began to loose passenger business as automobiles became more popular and affordable. To win back business, the railroads introduced streamline passenger trains with cars and locomotives incorporating a shape that provides less resistance to air, as well as a more modern appearance.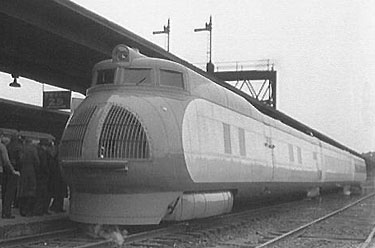 The Union Pacific Railroad introduced the M-10000, in February 1934, featuring the first internal combustion engine, lightweight streamlined express passenger train in the United States. The car bodies and interior fittings were built by Pullman-Standard. GM artist/engineer Harley Earl helped style the exterior of the M-10000. The train was painted in Armour Yellow with Leaf Brown roof and undersides. There were three cars the power and baggage car at the front, and two passenger cars, all lighter weight aluminum construction. The Winton engine produced electricity to power the General Electric traction motors located in the front truck.
The Chicago Burlington and Quincy Railroad introduced the
Zephyr
in 1934. The train featured extensive use of stainless steel, and served as a promotional tool to advertise passenger rail service. The construction included innovations such as shotwelding (a specialized type of spot welding) to join the stainless steel, and articulation to reduce its weight. On May 26, 1934 it set a speed record for travel between Denver, Colorado, and Chicago, Illinois, making the 1,015 mile non-stop dash in 13 hours 5 minutes at an average speed of 77 mph. For one section of the run it reached a speed of 112.5 mph.
Streamline design steam locomotives and the lighter weight streamline passenger cars were soon added to the longer name passenger trains throughout the United States.
The streamlined City of Los Angeles was jointly introduced by the Chicago and North Western Railway and the Union Pacific Railroad between Chicago and Los Angeles in May 1936, competing with the Santa Fe Chief. The streamlined weekly City of San Francisco began service between Chicago and Oakland in 1936, operated jointly by the Chicago and North Western Railway, the Southern Pacific Railroad, and the Union Pacific Railroad.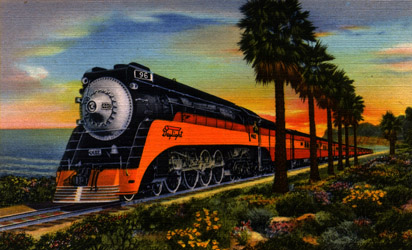 Southern Pacific introduced the streamline Daylight, between Los Angeles and San Francisco, on March 1, 1937. The Daylight was hauled by streamline GS-2 steam locomotives. The original Daylight was renamed the Coast Daylight, with the introduction of the San Joaquin Daylight, the Shasta Daylight, the Sacramento Daylight, and the Sunset Limited. A Noon Daylight was added on the same route as the Coast Daylight between 1940 and 1949, with a suspension during World War II. In 1949, the Noon Daylight was replaced by an overnight train known as the Starlight using the same equipment until the train was discontinued in 1957. Streamline diesel locomotives began pulling the trains in January 1955.
Santa Fe's streamlined Super Chief was the first diesel-electric powered, all-Pullman sleeping-car train in America, and it eclipsed the Chief as Santa Fe's standard bearer. The extra-fare Super Chief made its maiden run from Dearborn Station in Chicago on May 18, 1937, and covered the 2,225 miles to Los Angeles in just 39 hours and 45 minutes. Santa Fe introduced the streamlined El Capitan which was a lower priced,all coach or chair car train, also running between Chicago and Los Angeles, starting in February 1938.
Following World War II railroad passenger business begin to decline and became less profitable for the railroads. Automobiles had become more affordable, and roads between cities were being improved, supported by government subsidies. The railroads and railroad car manufactures, including the Pullman Company, continued to introduce improvements to passenger car design and comfort to attract customers with limited success.
The Rail Passenger Service Act of 1970 created Amtrak to take over the majority of intercity rail passenger service. Amtrak officially began service May 1, 1971. Amtrak now serves more than 500 stations in 46 states. For more information see rail passenger service today.
Cars in a Long Distance Passenger Train
Baggage Car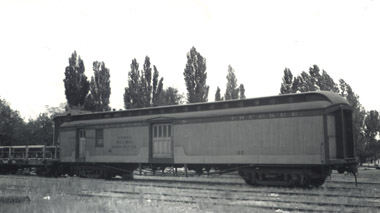 Baggage Cars cary the baggage of passengers riding on the train, baggage was transported for free on American railroads during the pioneer railroad era to attract business from the stagecoaches, a practice that became a tradition. The earliest reference to a baggage car as part of a train appeared in January 1833 reporting a fire that was presumed to have been started by a spark from the locomotive on the Newcastle and Frenchtown.
As early as 1839 some railroads began to divide the baggage by destination, placing the trunks, bags and hat boxes destined for a station in large crates which had small wheels to expedite unloading of baggage at a station. Open baggage compartments provided better flexibility for other railroads.
By the mid-1850's baggage cars appear to have been more commonly used, typically as a combination baggage-express car with a separate section of the car devoted to each. Often these cars were less fancy than cars that carried the passengers. Trains on higher traffic lines would have separate baggage and express cars.
By the late 1860's baggage and express cars were built to aesthetically look more like the rest of the train with clerestory roofs, arched windows and doors.
Orange Empire Railway Museum's collection includes Southern Pacific Baggage Car No. 6340, built in 1909; Denver & Rio Grande Western Baggage Car No. 743, built in 1910, and Denver & Rio Grande Western Baggage Car No. 745, built in 1929.
Express Car
Express cars carried parcels, money, and goods. Express cars were typically included in passenger trains in order to provide faster delivery of parcels than would be provided by a freight train for higher rates. On some lines the express and baggage were carried in separate compartments of a single baggage-express combination car.
The concept of carrying important parcels by railroads generally considered to have started with William Harriden, who in 1839 began regular trips between New York and Boston carrying such items.
The express business flourished in the latter half of the 19th century, with four principal express companies: Adams, Southern, American, and Wells Fargo providing this service. During World War I, the United States Railway Administration took over the nation's railroads. Under the USRA, the four companies were consolidated as American Railway Express, Inc., which became the Railway Express Agency in 1929. REA was collectively owned by 86 railroads in proportion to the express traffic on their lines.
In 1969, REA was sold and renamed REA Express. By then only 10% of its business moved by rail and its entire business constituted less than 10% of all intercity parcel traffic.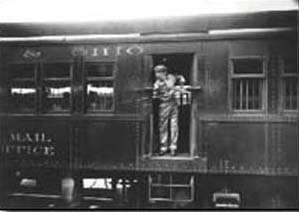 Railway Post Office Car
Mail cars have been in use to distribute mail between cities since as early as 1836, although their use was not widespread. Initially, mail was sorted only at the distributing post offices. Eventually the postal agents began opening the bags they picked up along the route and distributing the mail to the bags that were being dropped off further down the line.
An increasing volume of mail during the Civil War led to the beginning of a national railway mail system in 1864. Use of full service RPO cars became widespread. Shortly after W.W.II, there were 1500 RPO routes crisscrossing the United States with 30,000 workers in more than 4,000 cars. The use of RPO cars declined during the 1960's, by 1965, only 190 trains carried mail. In 1971, the Post Office Department terminated seven of the eight remaining routes.
The inside of RPO cars included letter cases, pouch and paper racks with storage space at each end. Cases and racks inside the mail compartment were used to sort mail for distribution to cities along the route. Catcher arms on each side of the car were used for grabbing hanging pouches of mail from cranes at non-stop stations and were in constant use.
On lower traffic lines a combination RPO-baggage or RPO-express car was commonly used. All RPO cars and RPO compartments of combination cars were built to Post Office specifications.
Today mail storage cars are used in passenger trains to transport pre-sorted mail. Read more about Railway Post Office cars.
Coach
Coaches, or Day Coaches, were developed in the 1830's to transport passengers. Early versions of this car were notoriously crowded, too hot in the summer and too cold in the winter. In some cases first and second class coaches were provided, with the first class coaches more comfortable than the second class. With each new generation of new design passenger cars, the cars became larger and more comfortable. As trains began to run longer distances, the coach became typically intended for travelers traveling less than a full day and offered less expensive travel than sleeping cars.
Orange Empire Railway Museum's Grizzly Flats Coach No. 5 was built in 1881 as Carson & Colorado Coach No. 5, a First Class Coach, by the Barney & Smith Manufacturing Company, Dayton, Ohio. Oregon Shortline Coach No. 692 was built in 1911.
Parlor Car
Parlor Cars were initially introduced during the 1860's as luxury day cars for those willing to pay a higher fare for more exclusiveness. The club-like interiors typically featured separate armchairs, larger windows, and the services of a porter. They were not found on every train or on every railroad.
During the 1880's variations of the parlor car emerged, the chair car which provided reclining seats and extra room at no extra charge, and the lounge car which was for all first class passengers to share.
Orange Empire Railway Museum's collection includes ATSF Parlor Observation Car No. 3209, which was built in 1910, by the Pullman Company, for the Santa Fe Land Improvement Company for use on the Atchison, Topeka & Santa Fe. The car was reportedly for excursion trains following the route of the Kite Shaped Track through Fullerton, Riverside, San Bernardino, Redlands, Pasadena and Los Angeles, primarily to entertain potential real estate investors. The car's interior was furnished in a stylish mission revival motif, with a beamed ceiling, monastery cloth covering the walls, and chairs that swiveled. Unique art glass featuring mission bells formed its side arched windows. It was divided into a parlor section, seating 38, and a small smoking compartment seating 7. The outside was originally painted a mortar color with a red tile color roof.
Chair Car
Chair cars were introduced in the late 1870's by railroads to attract business from competitors. Offering added luxury at no extra charge, they included separate comfortable reclining seats and more leg room than a coach, although they were less exclusive and spacious than a parlor car.
Orange Empire Railway Museum's collection includes ATSF Chair Car No. 3010, built in 1927, and Los Angeles & Salt Lake Chair Car No. 542, which is an example of a streamline era deluxe chair car as rebuilt in 1950. It seats 44 passengers.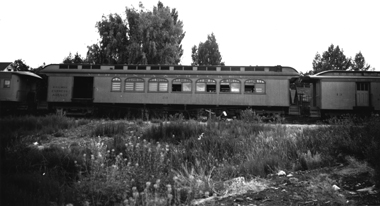 Combination Car
Combination cars, or combines, such as the coach-baggage combination, were most often used on lower traffic branch lines, shortline railroads and accommodation trains where separate cars were not needed, because few passengers and little baggage were expected. In this type of service a combination car would typically be the last car in the train and would also serve many of the functions of a caboose. A baggage compartment would be located at one end of the car, with the larger portion of the car designed to carry passengers. Combination cars, like baggage cars, tended to be more elaborately furnished after the mid 1860's, with decor similar to the coaches and other passenger cars.
Coach-baggage combines were also used on the main line name trains, the coach section was typically set aside for smoking passengers, or as a gentleman's car, where a man could sit to smoke and enjoy a conversation with other men.
Orange Empire Railway Museum's collection includes Atchison, Topeka & Santa Fe Combination Car No. 2419 built in 1879, Denver & Rio Grande Western Combination Car No. 552, built in 1891, Virginia & Truckee Combination Car No. 20, built in 1907, San Diego & Arizona Eastern Combination Car No. 175, built in 1915, ATSF Combination Car no. 2543, as rebuilt in 1917, and ATSF Combination Car No. 2602, as rebuilt in 1938.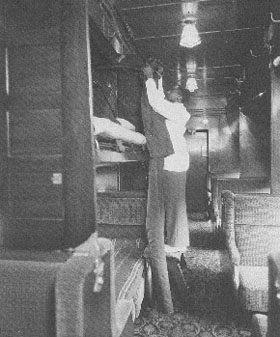 Pullman Sleeping Car
Sleeping cars were introduced about 1838, providing sleeping accommodations on overnight trains, although their use was not widespread until the late 1850's. Pullman began operating sleeping cars in 1859. Eventually the name Pullman became synonymous with sleeping car on American Railroads.
Pullman sleeping cars featured upper berths which folded up to the ceiling during the daytime, to allow for coach like seating, and dropped down to be made into a bed at night time. The lower berth was created by sliding the facing seat cushions on the seats together.
Pullman introduced their first steel sleeping car in 1907, full production began in 1910. The majority of Pullman's 8,000 "heavyweight" steel sleeping cars contained open-section space with nearly half containing only one drawing room. Private rooms or roomettes became more popular during the 1920's and 1930's, although open sections were included at one end of many Pullman cars for the accommodation of government employees who could only be reimbursed for open section berths. Read more about Pullman sleeping cars.
Orange Empire Railway Museum exhibits three Pullman Sleeping Cars, the Corydon, a 7 compartment, 2 drawing room car built in 1917; the Bison Peak, a 10 section 2 drawing room car built in 1926; and the National Scene, a streamline 6 roomette 6 section 4 drawing room car, built in 1956.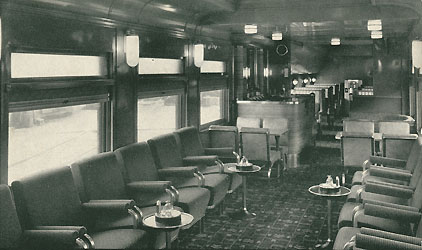 Lounge Car
Club Cars, also called Lounge Cars, developed with the introduction of the fast luxury name trains in the 1880's. The cars were generally furnished with armchairs, sofas and tables. Seating in the lounge car was not sold, the lounge car which was for all first class passengers to share. Passengers could relax and be served refreshments in the car's comfortable setting.
Union Pacific Club Car No. 1530, now at Orange Empire Railway Museum, seats 30 passengers, and is furnished with comfortable armchairs, sofas and tables where passengers could relax and enjoy refreshments, much as it was after the car was remodeled in 1954. The car also includes dormitory rooms which provided sleeping compartments for the on-board food and beverage crew.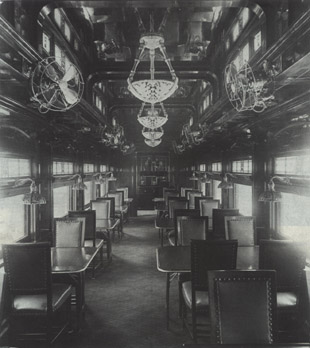 Dining Car
Dining cars were introduced on some lines during the early 1860's, mostly serving food that had been prepared at a depot restaurant. Although he did not invent the dining car, George Pullman was among the first to introduce cooking on a passenger train by placing a kitchen at one end of a modified sleeping car, the President, in 1867. The following year he introduced the Delmonico on the Chicago and Alton, the first full length dining car, which had an eight feet long galley in the middle and dining rooms toward both ends which each seated 24 people. For a number of years Pullman operated it own dining cars, the function was later turned over to the railroads.
Until the late 1880's, most railroads preferred to provide food stops at a station, allowing passengers to eat at the railroad station restaurants. Restaurant food could be wonderful or terrible. Most nineteenth century depot restaurants served food considered below standard, served by unkempt and slow waiters, and were denounced by the newspapers.
The Harvey Houses along the Santa Fe line, founded by Fred Harvey, established a reputation for fine food and good service following their establishment at the Topeka, Kansas depot in 1876. Harvey recruited waitresses from the East "young women of good character, attractive and intelligent, 18 to 30," which came to be referred to as the Harvey Girls. Harvey built his empire to include 47 depot diners and restaurants, 15 railroad hotels and 30 dining cars.
Dining Cars became popular in the late 1880's, allowing the first class long distance passenger train to continue traveling without having to stop so passengers could eat at a station. Dining Cars soon became known for providing the finest food, good service and pleasant surroundings on the country's first-class passenger trains. A favorite of the traveling public and the pride of the railways, dining cars captured the glamour and romance of train travel.
At one time 1,700 dining cars were in service employing an estimated 10,000 workers serving 80,000 meals each day. On a top level train, such as the Broadway Limited, a dining car crew consisted of a steward, assistant steward, chef, three cooks and ten waiters. Less busy dining cars required a minimum of seven workers.
Union Pacific Dining Car No. 3612, now at Orange Empire Railway Museum, was built in 1927. It was remodeled as a streamline car. It seated 36 people. The car became a maintenance of way car, No. 906201 in 1972.
Recommended Reading:
Passenger Travel:
Murphy, Jim. Across America on an Emigrant Train. New York, Clarion Books, 1993
Rae, William Fraser. Westward By Rail. New York, Indian Head Books, Barnes & Noble, Inc., 1993 (written 1869).
Shearer, Frederick E. editor. The Pacific Tourist: Adams & Bishop's Illustrated Trans-Continental Guild of Travel from the Atlantic to the Pacific Ocean. New York, Adams & Bishop, 1884 (reprinted New York, Crown Books, 1970)
Passenger Car History and Technology:
White, John H. Jr. The American Railroad Passenger Car. 1978, Johns Hopkins University Press, Baltimore MD. 2 vols. ISBN 0-8018-2743-4.
Railroad History Train Technology Railroad Operation Railroad Time Museums & Heritage Railroads Railroads Today



Pacific Time

Text written by Richard Boehle, photos AA Hart, CE Watkins, Theodor Horydczak, Richard Boehle, and unknown, courtesy of New York Historical Society, Pullman Company and Richard Boehle collections.
Entire web site copyright 2002-2015, DigitalNetExpress.com, Burbank, California.