Street Railways Enable City Growth
As cities throughout the West grew larger, there was an increasing need for public transportation as many people who moved to the cities could not afford their own wagon or carriage. With the development of street railways, people could build homes and live a further distance from the center of town, the railways provided reasonable mobility that enabled workers to reach their jobs and downtown businesses.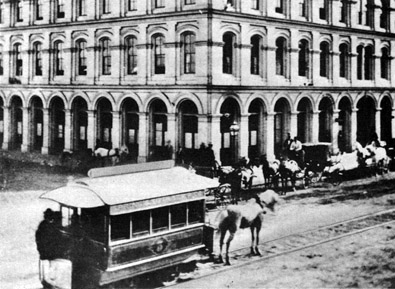 The earliest form of mast transportation in most cities was the omnibus, a coach designed to carry people. The debut of mass transportation in the United States is reported to have began in 1828 with a 12 passenger, horse drawn carriage carrying passengers along Broadway in New York City, started by entrepreneur Abraham Brower. The omnibus provided a new service, it ran along a designated route and charged a very low fare. Other eastern American cities soon followed suit, including Philadelphia in 1831 and Boston in 1835.
Streetcars Pulled by Horses Provide City Mass Transit
Roads were typically poor, providing slow bumpy transportation, especially in poor weather. The earliest city street railways consisted of streetcars drawn by horses and sometimes mules. The use of rails had the advantage of less rolling resistance, which greatly improved the comfort and speed of the horse drawn cars, and improved the efficiency of operations. Early street railway operations began in New York City in 1832, on the New York and Harlem Railroad's Fourth Avenue Line, owned John Mason, a wealthy banker. In 1835 the St. Charles Avenue line in New Orleans, Louisiana, followed, beginning as a steam railway line, although it was soon switched to horse and mule pulled streetcars.
In San Francisco in 1860 the Pioche Railroad was started by the Market Street Railway Company, which graded Market Street. This road at first was operated by steam dummies, later by horses. Service begins for the Sacramento Pioneers Railroad Company's horse-drawn streetcars on September 18, 1861.
Sacramento's first lasting streetcar line was the City Street Railway, inaugurated in August 1870. It ran from the Central Pacific depot on Front Street, down K Street, to the California State Fairgrounds at 20th and H Streets. Within a year the streetcar line was extended to Thirty-first Street.
In San Jose the First Street Railroad Company began horse drawn streetcar operation in 1872.
The Portland Street Railway opened Portland, Oregon's first horse-drawn streetcar line, a two mile long route along First Street from Glisan to Caruthers in 1872, operated by Ben Holladay. By 1888 four more companies were operating horse car lines in Portland.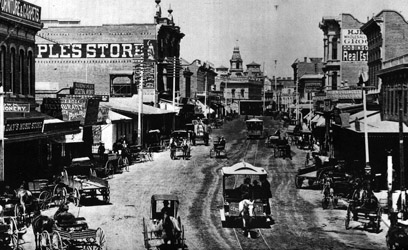 In Los Angeles, the Spring and Sixth Street Railway began operating horse drawn streetcars July 1, 1874, created by Robert M. Widney, a real estate promoter. Its route was from the Plaza on Main to Spring to 1st to Fort (Broadway) to 4th to Hill to 6th to Pearl (Figueroa). The single track, narrow gauge railway opened for service with one car. Its barn was at the corner of 6th & Figueroa. Business was good, a second car was soon in service. In November 1874 the line was extended to what is now N. Spring and Alameda, on March 1876 it was extended to East Los Angeles (now Lincoln Heights) via San Fernando St. (N. Spring) and Downey Ave. (N. Broadway) to Gates St. By August 1878 a line was completed via the Plaza, Olvera, Macy, Alameda to San Fernando St.
The Main Street & Agricultural Park Street Railroad was chartered by bankers John G. Downey, Ozro W. Childs, John Griffin, F.P.F. Temple, William Brodrick, Isaias W. Hellman and William Workman. The initial portion of the line opened with two cars in July 1875. Tracks were extended to Agricultural Park via Washington, Pearl (Figueroa), and Santa Monica Avenue (Exposition Blvd.) the following summer.
After selling his interest in the Spring and Sixth Street Railway, Widney opened the East Los Angeles & San Pedro Railway standard gauge line in 1876. The like benefited more from freight business than passenger business. Unfortunately the line ceased to be profitable after the Los Angeles & Independence Railroad extended their service to the Southern Pacific Depot via trackage on Alameda Street. The tracks were removed in early 1880.
The Los Angeles & Aliso Avenue Street Passenger Railway began regular service to Boyle Heights in February 1877, benefiting real estate developers and residents in the Boyle Heights area.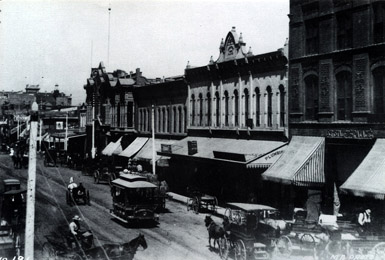 Hellman, Brodrick and John Wheeler opened the City Railroad of Los Angeles in 1883 from the Southern Pacific depot to a terminus at Washington and Pearl (Figueroa) with two standard gauge horse cars. The City cars made the three mile run in 30 minutes. The company owned five cars and 25 horses allowing them to run a car every 15 minutes.
The Central Railroad, backed by Stanley P. Jewett, Edward F. Spence and James Crank was chartered in 1883. They purchased the Aliso Avenue line which they consolidated the Spring & Sixth Street Horse Railroad which they had acquired in 1880. In May 1886 the City Railroad of Los Angeles combined with the Central Railroad to form the City-Central.
The Main & Fifth Street Railroad began service in July 1887, running from First and Main Streets to Fifth Street and Central Avenue.
San Diego's first line began operation on July 3, 1886 when the first San Diego Street Car Company streetcar made its way up Fifth Avenue from the waterfront.
These horse pulled streetcars were also popular in many other other growing California cities. The arrival of the Atchison, Topeka and Santa Fe Railway in 1887 sparked a land boom and the need for additional horse car lines on other areas. The Santa Ana, Orange and Tustin Street Railway opened in November 1886. The Anaheim Street Car Company line began service in March 1887. The Orange, Mc Pherson and Modena Street Railway opened in January 1888.
In Phoenix, Arizona, the Phoenix Street Railway was founded by Moses Sherman in 1887.
The Bakersfield and Sumner Railroad opened a horse powered line between the Courthouse in Bakersfield and the Southern Pacific Train Station in Sumner in 1888.
It has been estimated that by the late 1880's there were over 500 horse car railway lines running in some 300 cities around the U.S. Over 100,000 animals were used in these operations, operating over 6000 miles of track and carrying 188 million passengers per year.
Cable Pulled Street Cars offer Speed, Safety and Cleanliness Improvements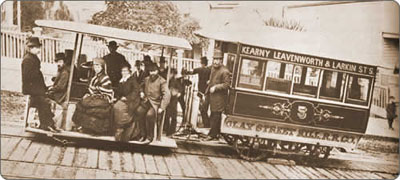 In San Francisco and other hilly cities, horses had difficulty pulling the loaded streetcars up the hilly streets. After witnessing an accident where five horses lost their footing, Andrew Smith Hallidie, a successful wire-rope manufacturer, developed a system of pulling streetcars using a cable and pulleys located beneath the street. A large stationary engine pulled the cable throughout the line. Grip cars used a grip that held onto the cable, towing trailer cars. Cars were started into motion by gripping the cable, and stopped by releasing the cable. Hallidie opened the first successful cable car line, the Clay Street Hill Railroad, September 1, 1873.
The Clay Street Hill Railroad line ran along Clay Street from Kearney to Leavenworth. It provided a safe way for people to travel San Francisco's hilly streets and allowed housing development to expand into the hilly areas. A turntable at each end allowed the train to run in both directions.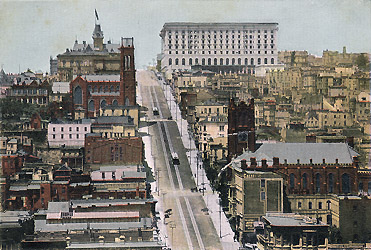 Faster and often safer than horse drawn streetcars, "cable car" lines expanded rapidly. The Sutter Street Railway was converted from horse drawn operation in 1877. In 1878 Leland Stanford opened the California Street Cable Railroad, with it's first line was on California Street. The California Street cable car line still in operation today. In 1880 the Geary Street, Park & Ocean Railway began operation. In 1883 the Market Street Cable Railway opened its first line, owned by Leland Stanford and associates. In 1888 the Ferries and Cliff House Railway opened its initial two-lines, the Powell-Mason line and the Powell-Washington-Jackson line, stretches of which are used as today's Powell-Hyde line. In 1889 the Omnibus Railroad and Cable Company opened a line. By the 1890's, eight companies operated 600 cable cars in San Francisco. They operated on 21 routes for a total of 52 miles.
In Los Angeles the first to open was the Second Street Cable Railroad opened a cable line in October 1885 on Second Street from Spring to Texas Street (Belmont Avenue). The line opened with three "dummy" grips and three trailers, each seating about a dozen riders. The primary promoters of the project were officers of the Los Angeles Improvement Co. who reportedly sold almost all of their 1400 available lots within the first year after the line opened.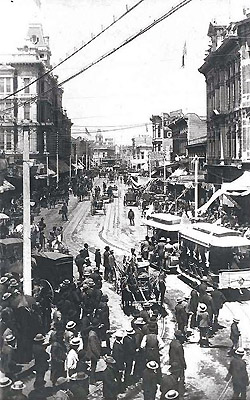 The Temple Street Cable Railway company opened a line along Temple Street between Spring and Belmont on July 14, 1886, with four dummy grip cars and for trailers. The line was opened by real estate promoters. The Temple Street track was extended to Dayton Heights at the city limits in 1888, a transfer point to the Cahuenga Valley Railroad. The line survived until 1898 when it was sold under foreclosure. Henry Huntington acquired the line in 1902, incorporating it into his new Los Angeles Inter-Urban Railway.
The Los Angeles Cable Railway incorporated in June 1887, merging the horse powered City-Central and East & West Los Angeles Street Railways. J.F. Crank was president of the new company. Cable car service began in June 1889. Los Angeles Cable Railway became the largest transit venture in the city and operated from Boyle Heights, East Los Angeles out to Westlake Park and Grand Avenue. In late 1889 the company was reorganized as the Pacific Railway Company. In 1890 the company had 45 miles of track, 125 cars, 325 employees and 7 million customers. Its lines radiated to the most established neighborhoods, major parks and railroad depots. Facing high operational costs, competition and declining revenues, the company became insolvent. The company property was sold to the Los Angeles Consolidated Electric in a foreclosure sale in October 1893.
In San Diego, the San Diego Cable Railway Company built a 4.7-mile cable car line from Sixth and L downtown to Park and Adams which opened in June 1890. Unfortunately the line wasn't financially successful, the company folded 13 months later.
In 1890 the Portland Cable Railway in Portland, Oregon, opened lines along Southwest Jefferson Street to City Park, to the waterfront on Southwest Alder, and along Southwest Chapman Street (now 18th Avenue) to Portland Heights.
The Angeles Flight Railway began operations on December 30, 1901, built by Col. J.W. Eddy to provide Los Angeles's Bunker Hill residents a public access up the steep slope from Third and Hill Streets to Third and Olive Streets. As a traditional funicular inclined cable railway, Angels Flight operates with minimal power because its two cars, Olivet and Sinai, are counterbalanced, they are pulled and lowered by a cable with a motor located at the top of the incline.
Early Attempts to Introduce Electric Powered Cars Show Some Promise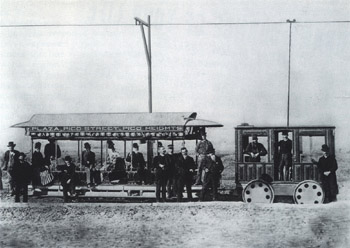 The cost of building and operating a cable railway system was very high. Various experiments were made across the country with using electricity as a form of propulsion.
In Los Angeles, Col. Charles H. Howland was part owner of a tract of land along Pico Street, west of Vermont Street, and in December 1885 obtained a franchise to build a streetcar line which was to be either cable or electric powered. The first electric streetcars in Los Angeles began operating on the Los Angeles Electric Railway Company Pico Street line in January 1887. These cars used a two troller system designed by Leo Daft to get electricity from overhead wires. While the cars were capable of transporting people quickly, technical problems, breakdowns and delayed service were frequent. Following a powerhouse boiler explosion in June 1888, operation resumed with horse cars. Soon after the company declared bankruptcy.
In November 1887, the Electric Rapid Transit Company debuted San Diego's first electric streetcar, which also experienced technical problems and breakdowns, and eventually returned to steam dummy operation on the San Diego and Old Town line. The Electric Rapid Transit second line along Fourth Street from G to Fir also shut down weeks at a time for various technical reasons, with horse cars or steam trains filled the gap. Financially unsuccessful, it ended operation in June 1889.
Improved Technology Enables Faster, Economical and Frequent Electric Car Service
Inventor Frank Sprague introduced several important inventions including a constant-speed, non-sparking motor with fixed brushes; regenerative braking, and improved designs for a spring-loaded trolley pole. His Sprague Electric Railway & Motor Company installed the first successful large electric street railway system, the Richmond Union Passenger Railway in Richmond, Virginia, which began passenger operation on February 2, 1888. The 12 mile long line included grades of over 10%. Boston's West End Street Railway was closely patterned upon Richmond's, opening in 1889.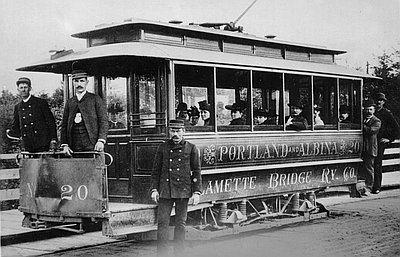 Portland's first electric street railway line, operated by the Willamette Bridge Railway, entered service in November 1889, on the on the Albina Line crossing the Steel Bridge between East Portland and Albina. The cars were a 4-wheel design built by the Pullman Co. of Chicago. The Willamette Bridge Railway consolidated with the Transcontinental Railway Company to form the City & Suburban Railway Company in September 1891, with a total ownership of 45 miles of track, the horse powered lines were soon electrified. In 1904 the company merged with the Portland Traction Co. to form the Portland Consolidated Railway Company.
The Los Angeles Consolidated Electric Railway, was chartered in 1890 by Moses Sherman and Eli Clark. The West First Street route to Westlake Park successfully began electric streetcar service in 1891, using the improved overhead trolley system developed by Frank J. Sprague, which used a spring-loaded trolley pole with a wheel to travel along the overhead wire to collect electricity. A second new electric streetcar line, running to the University of Southern California and Agricultural Park was also built in 1891. LACE built and acquired additional lines, including the former Los Angeles Electric Railway Company line on Pico. By the end of 1891 LACE had five routes and 25 miles of electric lines.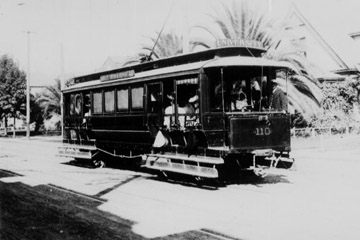 In October 1893 the Los Angeles Consolidated Electric Railway acquired the Pacific Railway at a foreclosure sale, including 20.5 miles of cable railway lines on two routes and 9.09 miles of horse railway lines on three routes. LACE announced plans to convert the system to electricity, however, the acquired lines continued to operate as cable and horse lines. The acquisition gave LACE ownership of 68 miles of lines, about 80 percent of the total trackage in Los Angeles. Sherman and Clark opened a new 11 mile long interurban line to Pasadena, running along the Arroyo Seco, in 1895.
The Los Angeles Railway was formed in March 1895, acquiring the lines of the financially troubled Los Angeles Consolidated Electric Railway in August 1895. The LARY ordered new equipment, including 44 new cars, and converted the former cable and horse lines to electric lines by June 1896.
The Los Angeles Traction Company, under the leadership of William S. Hook, started building a competing streetcar system in 1894. By 1899 Hook's green cars were running from their powerhouse and car barn on Georgia Street out West Adams to Arlington, to Boyle Heights via East Fourth, West Eighth past Westlake Park (Mac Arthur Park) to Hoover, and to Agricultural Park (Exposition Park) via Vermont Ave.
The Main Street & Agricultural Park Railroad was sold to a new group of investors, and it's horse car system was converted to electricity in 1897.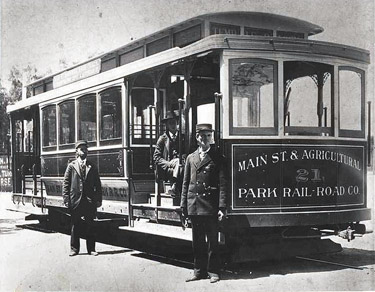 The newer electric streetcars provided faster, more frequent service in cities throughout the West. Improvements in technology and comfort enhanced travel as the cities grew larger.
The San Francisco and San Mateo Electric Railway began operating the first electric streetcars in San Francisco in 1892. In 1893 Stanford's company was taken over by the Southern Pacific Railroad, again renamed to the Market Street Railway Company, and began the process of converting some of its cable car lines to electric streetcar lines. After the April 1906 Earthquake and fire, the majority of cable car lines were converted to electric streetcar lines. The Geary Street line was replaced by a municipally owned electric streetcar line, the first line of the San Francisco Municipal Railway (Muni).
The San Diego Streetcar Company was purchased by leading San Diego developer and entrepreneur John D. Spreckels in 1892. Along with other lines acquired by Spreckels, it became part of the San Diego Electric Railway Company. The SDERC began electric streetcar service in 1892, using Sprague's electric system.
The Phoenix Street Railway in Phoenix, Arizona, was converted from horse power to electric power in 1893.
In 1900 the horse powered Bakersfield and Sumner Railroad was absorbed by the Power Development Company. The rail subsidiary was named the Bakersfield and Kern Electric Railway and the line was electrified in 1901. Four additional lines within Bakersfield were opened in 1903.
In Reno a group of local businessmen organized the Nevada Transit Company which opened a 3 mile long electric streetcar line from Reno's downtown eastward to Sparks and the Southern Pacific railroad yards in November 1904. The line's route was extended over the Truckee River on the Virginia Street Bridge in January 1905. The streetcar service was purchased in 1906 and was renamed the Reno Traction Company.
Henry Huntington and the Southern Pacific consolidate and expand service in Los Angeles
Los Angeles area real estate and utility tycoon Henry Huntington, nephew of C.P. Huntington, and his associates gained control of the Los Angeles Railway in 1898. The Main Street & Agricultural Park Railroad was purchased and merged with the LARY in late 1898. Construction of two new lines and acquisition of two additional lines gave the Los Angeles Railway ownership of more than 100 miles of track with electric cars running on 20 separate routes by 1900.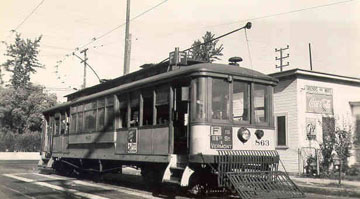 E.H. Harriman, president of the Southern Pacific, purchased the Los Angeles Traction Company and the California Pacific interurban line from Hook in April 1903. In 1903 the Southern Pacific took a half interest in the Los Angeles Railway. In 1904 he sold the Los Angeles Traction Company lines to Huntington who consolidated them into his Los Angeles Inter-Urban Railway, which had also electrified the former Temple Street Cable Railway line.
Most city electric streetcar systems used standard gauge track. The Los Angeles Railway used a less common 42 inch narrow gauge track, as had the Los Angeles Consolidated Electric and the Los Angeles Cable Railway. Early California lines often preferred small "California" type cars featuring open and closed sections. As larger cars were built the style continued to be popular. Other city lines preferred completely enclosed cars.
In 1910, Henry Huntington sold his interest in the Pacific Electric to the Southern Pacific in return for full ownership of the Los Angeles Railway. The key to separating the lines of the Los Angeles Railway from the Pacific Electric within the city was the track gauge. The Los Angeles Railway owned 172.62 miles of double track, 525 cars, and as of 1912, 27 different routes. During the early 1920's it operated nearly twice as many cars, most running through the core of Los Angeles and serving such nearby neighborhoods as Echo Park, Westlake, Hancock Park, Exposition Park, West Adams, the Crenshaw district, Vernon, Boyle Heights and Lincoln Heights. The LARY carried more than 250 million passengers annually.
Streamlined Presidents Conference Committee Cars Introduced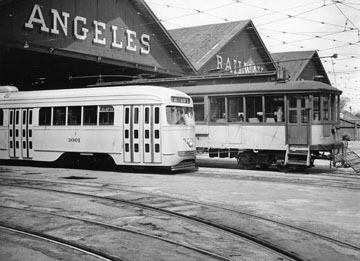 During the 1920's and 1930's the streetcars started loosing popularity. Wanting to win back streetcar passengers, a group of transit executives and manufacturers joined forces to design a more modern looking standardized rail transit vehicle that would be cost-effective to operate and maintain. The result was the Presidents Conference Committee car, or PCC.
The streamlined cars featured automobile-style controls, fast acceleration and deceleration, better braking and insulated wheels and riggings. The Los Angeles Railway ordered 60 PCC cars and the San Diego Electric Railway ordered 28 PCC cars which began service in 1937. The new cars did little to slow the popularity of the automobile.
In 1895 approximately 850 electric car lines were running over 10,000 miles of track throughout the nation. By the late 1920's, more than 1,000 cities and towns had electric streetcar systems operating nearly 63,000 streetcars over about 40,000 miles of track. During World War II, the number of transit passengers peaked at an all-time high of over 23 billion in 1946.
Streetcar Lines Replaced by Buses
By the late 1930's the LARY was extending service to new areas with busses, not streetcars, and it began to substitute busses for streetcars. The temple Street line was the first line to be converted to bus service.
During the 1940's, the Los Angeles Railway system contained over 20 streetcar lines and 1,250 "Yellow Cars." The Los Angeles Railway was sold by Henry Huntington's estate to the National Car Lines in 1944, at which time it was renamed Los Angeles Transit Lines. Gradually many of the streetcar routes were replaced with buses. The last streetcar lines were taken over by a government agency, the Metropolitan Transit Authority (not related to the current agency of that name) in 1958. The agency removed the remaining five streetcar lines in 1963.
In San Diego, the San Diego Electric Railway was only operating three railway lines by March 1948. Western Transit Company bought SDERy in July 1948, and changed the name to San Diego Transit. The last rail service in April 1949.
After the war, the popularity of suburban living, a growing number of highways, inexpensive fuel prices and good advertising helped make automobile ownership attractive. Cars promised speed, freedom, comfort and convenience, taking people wherever they wanted to travel. Public transportation faced increasing cost, deferred maintenance, declining ridership and declining profits.
Perhaps ironically, clogged freeways, crowed streets, rising fuel costs and concerns about air quality have seen a re-birth of electric rail transit in San Diego, Los Angeles, Sacramento and Portland, see commuter and city rail transit today.
Orange Empire Railway Museum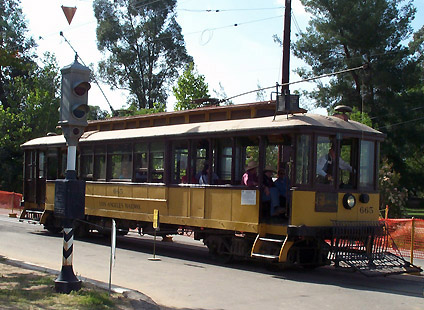 OERM's city transit collection includes horse cars, cable cars, wooden electric railway streetcars, steel electric railway streetcars, PCC cars, maintenance of way cars and trolley coaches.
The core of the museum's street railway collection is the "Yellow Cars" from the Los Angeles Railway. These cars are exhibited in Car House No. 1 (42 inch gauge), Car House No. 2 (standard gauge), and the Trolley Coach Yard, all are located at the center of the museum.
Labels convey information about the street cars and trolley coaches.
Smaller city transit objects, including tokens, coin changers, punches, uniform parts and rule books are displayed in the Middleton collection.
City street cars operate each Saturday and Sunday on the Pinacate "Loop Line." They are operated by a trained conductor and motorman who demonstrate how the cars were operated while on the streets of Los Angeles. A demonstration ride is provided for visitors who may board the car or get off at several established car stops, providing a firsthand living history experience. Conductors also generally talk about the car which is being operated, and the Los Angeles Railway.
Tours are provided by museum volunteers which typically vary in scope and content.
Railroad History Train Technology Railroad Operation Railroad Time Museums & Heritage Railroads Railroads Today



Pacific Time

Photos, Donald Duke Collection, Huntington Library, USC Library, Metro and by Richard Boehle
Entire web site copyright 2002-2015, DigitalNetExpress.com, Burbank, California.