Standard Clocks in Railroad Stations convey Consistent Time

Time is a critical factor in railway operations. Safe train movement and success of the growing railroads depended on keeping time consistently and accurately. In addition to establishing Time Standards, the railroad installed a Standard Clock in major stations. Clocks designated as a Standard Clock were high quality pendulum regulators maintained to strict standards to ensure they remained accurate.
Ensuring the use of consistent standardized time by railroad workers who were responsible for the movement of trains, when leaving a station and while the train was moving, was critical to safe railroad operation.
Railroads operated using a timetable in order to avoid collisions between trains and to move trains efficiently over the railroad lines. A timetable is a published schedule of the movement of trains which lists the trains, locations along the railroad line, and times at which certain events, such as arrivals and departures at a station or siding, are expected to take place.
Railroad Time was first introduced on the Great Western Railway in England in 1840, when a number of different local times were synchronised and a single standard time applied.
Standard Clocks used to regulate Station Clocks and Railroad Watches
In 1843 the Baltimore & Ohio Railroad issued a rule stating "the clock at the Pratt Street depot in Baltimore shall be taken to be the standard time, and all conductors of passenger trains before departing from Baltimore with their trains, are required to have their watches regulated with that clock." Conductors were further instructed to see that all other stations which they pass conform to the standard time," and report any differences to headquarters.1
In July 1853 several rail lines stretching 298 miles from Buffalo to Albany were consolidated as the New York Central Railroad. The New York Central officials adopted a single operating time, the "Standard of Time" given by the "clock in [the] Depot at Albany."
In August 1853 the Boston & Providence Railroad issued Standard Time rules, including:
Standard Time is two minutes later than Bond & Sons' clock, No. 17 Congress street, Boston.
The inside clocks, Boston and Providence stations, will be regulated by Standard Time.
The Ticket Clerk, Boston station, and the Ticket Clerk, Providence station, are charged with the duty of regulating Station Time. The former will daily compare it with Standard Time, and the latter will daily compare it with Conductor's time; and the agreement of any two Conductors upon a variation in Station Time shall justify him in changing it.
Conductors will compare their watches with Standard time in the following order.
Monday - Conductor of Steamboat Train
Tuesday - Conductor of Accom'n Train No. 1
Wednesday - Conductor of Accom'n Train No. 2
Thursday - Conductor of Accom'n Train No. 3
Friday - Conductor of Dedham Train No. 1
Saturday - Conductor of Dedham Train No. 2
All Conductors of Passenger and Freight trains will compare their time with Station time, Boston and Providence, every day, and report any variations to Superintendent of Transportation.
A record will be made by the Ticket Clerk, or in his absence, by the Baggage Master, of the comparisons required by Art. 5 to which they will certify by their signature or initials.
Not all clocks along the railroad line were Standard Clocks, the railroads took specific steps to make sure the difference was clear. Standard Clocks were labeled to distinguish them from other clocks on almost all railroads. Louisville and Nashville Railroad Co. Standard Time rule no. 14, as published in 1892, directed that:
"Certain clocks will be designated on each division as Standard Clocks"
Louisville and Nashville Railroad Co. rule no. 15, further directed that:
"Where station clocks are provided, station agents must see that they show the correct time; but trainmen and enginemen must not take time from such clocks unless they are also designated as Standard Clocks."
Train dispatchers, conductors, enginemen, brakemen, yardmasters and foremen of yard engines were also required to equip themselves with approved railroad watches. It was also critical to verify that each watch displayed the correct time. For example, Louisville and Nashville Standard Time rule no. 17, as published in 1892, stated:
"Each Conductor and engineman must regulate his watch by the designated Standard Clock and compare time with each other before starting on each trip, and register his name and the time at which he regulated his watch on a blank form (or in a book) provided for that purpose."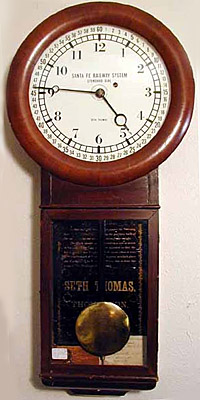 Before starting on a run or before commencing work each day, other members of the train crew were to compare their watches with the conductor's or engineman's watch at the first opportunity.
Standard Clocks Synchronized using a Telegraph Signal
Use of the telegraph improved the consistence of time at railway stations. William Bond & Son of Boston, started using telegraphed time signals from the Harvard College Observatory in Cambridge to provide authoritative time signals to the Boston area railroads beginning in 1851. A similar service began in New York around the same time.
John C. Adams firm also telegraphed the correct local time to all Chicago & Galena Union Railway Stations starting in 1864 which continued until the Chicago railroads began receiving the time signals directly from the Dearborn Observatory in 1869-1870.
The Standard Time System, which divided the United States and Canada into five time zones, was inaugurated by nearly all the railroad companies on Sunday, November 18, 1883. At twelve o'clock noon each railroad station clock was reset as standard-time noon was reached within each time zone. Greenwich Mean Time (GMT) was transmitted via telegraph, the U.S. Naval Observatory began signaling the new time standard.
In order to ensure these standard clocks were always correct, a time signals was transmitted by telegraph once every 24 hours, using the resources of the U.S. Naval observatory. The correction signal took the form of a string of dots at one second on, one second off intervals and was transmitted via Morse telegraphy for three minutes prior to the hour (12:00 p.m. EST). This was followed by a 10 second silent period, then a dash at precisely 12:00 p.m. Station agents were thus given a way to spike (correctly set) the clocks at their location. If a clock was found to differ from the correct time by less than 10 seconds it was common practice for an indicator card to be placed on the clock indicating the variation from correct standard time. When the variation was 10 seconds or more the clock was to be reset.
Clock Manufactures
In May 1853 Seth Thomas incorporated the Seth Thomas Clock Company, in Plymouth Hollow, Connecticut, (later to become Thomaston). Following Seth's death in 1859, his son Aaron became president and began to add new clocks to the company's line.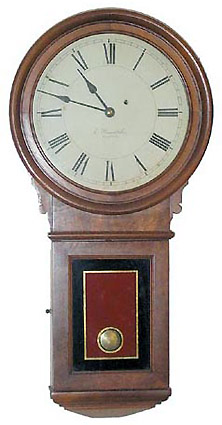 Regulator clocks were introduced in 1860. Weight driven regulator clocks manufactured by the Seth Thomas Clock Company seem to have been the most popular choices when the railroad companies installed Standard Clocks. The Seth Thomas Regulator No 3 which featured a 14 inch dial and 41 to 44 inch tall case, was widely used as the Standard Clock in the railroad stations across North America. Larger railroad stations in principle cities often used larger models with more elaborate cases, such as Seth Thomas Regulator No 18, height 54 inches, Seth Thomas Regulator No 16, height 75 inches with a 12 inch dial, or Seth Thomas Regulator No 19, height 75 inches with a 12 inch dial and a mercury pendulum. The smaller Seth Thomas Regulator No. 2 with a 12 inch dial and a 36 inch tall case, was a popular railroad station and office clock. Regulator No. 2 was produced, with very few changes, from the early 1860's until 1950 and thus is probably the longest produced single model in clock manufacturing history. Smaller Seth Thomas clocks were also widely used in used in railroad offices, locomotives and business cars.
The E. Howard Clock Co. was founded 1842 in Roxbury, Massachusetts, under the name Howard and Davis, their factory was completed in 1845. In 1857 David P. Davis left the firm and Howard & Davis was succeeded by E. Howard & Company. In March 1861 the clock and watch businesses were combined into one joint stock corporation, manufacturing weight driven wall clocks and regulators of fine quality. Howard Watch & Clock Company weight driven regulators were widely used as Standard Clocks in railroad stations and were also known for their accuracy. The large Regulator No. 89, with a 12 inch dial and 65 inch tall case, Regulator No. 57, with a 14 inch dial and 74 inch tall case, and Regulator No. 60, with a 14 inch dial and 80 inch tall case were used in larger stations. Regulator No. 70, with a 12 inch dial and a 32 inch tall case was a commonly used model for smaller stations and offices. Regulator No. 70, was also available in larger sizes.
Webb C Ball was Chief Time Inspector and developed a time inspection system for railroads centered in the Cleveland area. A January 1891 advertisement listed Ball as the "Official Watch Inspector and Time keeper" for six railroads. The Webb C. Ball Co. was incorporated in 1891 as a wholesale and retail jewelry business. Webb C. Ball developed a time inspection system which grew into the Ball Railroad Time Service, contracting with jeweler dealers throughout the United States. Ball's original jewelry business in Cleveland grew into the Ball Watch Company. In addition to high quality watches, Ball sold high quality regulator clocks from the top American clock manufactures including the Seth Thomas Clock Co., E. Howard Clock Co. and Chelsea Clock Co. under the Ball brand name.2
The Self Winding Clock Company, Brooklyn, New York, began offering regulator clocks that were wound by a small electric motor around 1890. The company also offered a mechanism that that would automatically correct any variance from correct time using a time signal over a telegraph line from the US Naval Observatory. When the Self Winding Clock Company started producing clocks the vast majority of the actual clock movements were made by the Seth Thomas Clock Company and the remainder were made by the E. Howard & Co. The SWCC appears to have been manufacturing their own clock movements by 1892. In a larger depot or facility less expensive "slave" clocks could be electrically synchronized with a "master" clock to ensure any variance was corrected on all clocks every hour.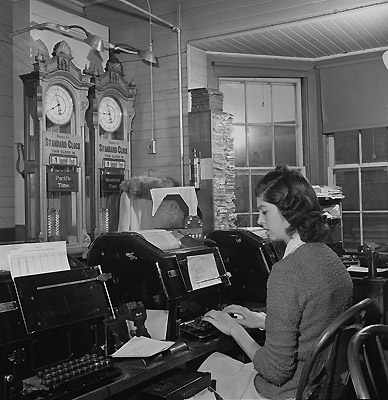 The Gilbert Clock Company was founded by William Lewis Gilbert and his brother-in-law George Marsh in Bristol, Connecticut in 1828. In 1841, Gilbert moved to Winchester, Connecticut and purchased a clock factory with Lucius Clarke forming Clarke, Gilbert, & Company, primarily producing inexpensive brass clocks. After a fire destroyed the factory in 1871 Gilbert formed the William L. Gilbert Clock Company. Gilbert produced a variety of clocks including wall clocks and several weight driven regulators, including Regulator No. 16, which was 8 ft. 7 inches tall with a 12 inch dial and a mercury pendulum, Regulator No. 22, which was 7 ft. 4 inches tall with a 12 inch dial and a mercury pendulum, Regulator No. 20, which was 6 ft. 11 inches tall with a 12 inch dial and optional mercury pendulum, Regulator No. 21, which was 48 inches tall with a 12 inch dial, and smaller Regulator No. 66, which was 38 inches tall with a 12 inch dial. Gilbert clocks were used in railroad stations, it is not known at this time if any railroads designated Gilbert Clocks as Standard Clocks.
The Chelsea Clock Company, Chelsea, Massachusetts, was founded in 1897 by Charles H. Pearson, succeeding Joseph Eastman's Eastman Clock Company which failed financially in 1896. Chelsea's clock line featured weight driven Regulator No. 5, with a 12 inch dial and 48 inch tall case, described as the "finest regulator commercially sold by Chelsea," and Regulator No. 3, with a 12 inch dial and 37 inch tall case, which Chelsea catalogs listed "for jewelers, railroad stations, offices and public buildings." The Chelsea Clock Company became best known for producing a high quality watch escapement type of clock which made an excellent timekeeper which would run in any position, ideal for use on both ships and railroad cars. Chelsea clocks were used by the railroads, it is not known at this time if any railroads designated Chelsea Clocks as Standard Clocks.
This list only includes the larger clock manufactures that are know to have had clocks in use by the railroad companies, it is not comprehensive.
For Additional Reading:
Bartky, Ian R. Selling the True Time: Nineteenth century timekeeping in America. Stanford: Stanford University Press, 2000. ISBN 0-8047-3874-2.
McCrossen, Alexis. Marking Modern Times: A history of clocks, watches, and other timekeepers in American life. Chicago, University of Chicago Press, 2013. ISBN 978-0-226-01486-9.
1 Bartky, Ian R. Selling the True Time: Nineteenth century timekeeping in America. Stanford: Stanford University Press, 2000. ISBN 0-8047-3874-2.
2 Krause, James. "Clocks of the Webb C. Ball Watch Company" NAWCC Bulletin No. 331, April 2001, pp 164-166.
Note: This page is still being developed, please check back again soon.
Railroad Clocks Railroad Watches Approved Watches Watch Use & Care Watch Manufactures
Sharing A Heritage Railroad History Train Technology Railroad Operation Railroad Time Museums & Heritage Railroads Railroads Today



Pacific Time

Top photo E Howard regulator used on the Santa Fe (private collection), 2) Seth Thomas Regulator No. 2 used on the Santa Fe (stock photo), 3) E. Howard Regulator No. 70 (stock photo), bottom Teletype Operator, ATSF, Seligman, AZ, 1943, Standard Clocks for Pacific Time and Mountain time in background (Jack Delano photo, courtesy U. S. Library of Congress), text by Richard Boehle.
Entire web site copyright 2002-2015, DigitalNetExpress.com, Burbank, California.