Rail Passenger Travel Today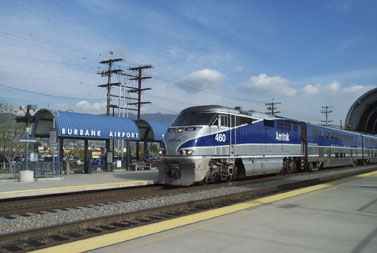 By the late 1960's, most railroad passenger service had ceased to be profitable for the railroads. The National Railroad Passenger Corp. (Amtrak) was created by Congress in 1971 to operate a passenger service network within the United States.
The railroads who joined Amtrak and contributed rolling stock, facilities and cash, were permitted to discontinue their passenger service. Most railroads quickly agreed. In 1971, Amtrak announced a schedule of 184 trains, serving 314 destinations.
Amtrak now serves more than 500 stations in 46 states. Those states in which Amtrak does not have service include Alaska, Hawaii, South Dakota, and Wyoming. On weekdays, Amtrak now operates up to 300 trains per day, excluding commuter trains. Each day, approximately 67,000 passengers travel on Amtrak.
In fiscal year 2006, Amtrak served more than 24.3 million passengers, an all-time record, representing the fourth straight fiscal year of record ridership. In fiscal year 2003, Amtrak served more than 24 million, in fiscal year 2002, despite a national downturn in travel, Amtrak served 23.4 million passengers.
Amtrak operates 436 locomotives — 362 diesel and 74 electric. Amtrak operates 2,141 railroad cars including 168 sleeper cars, 760 coach cars, 126 first class/business class cars, 66 dormitory/crew cars, 225 lounge/café/dinette cars, and 92 dining cars. Baggage cars make up the remainder of the fleet. (source: Amtrak)
Amtrak Service in California & Nevada
Amtrak currently lists eight train routes which serve California and Nevada:
| | | | |
| --- | --- | --- | --- |
| Train Name: | Train Nos: | Major Cities Served: | Total Time: |
| California Zephyr | 5,6 | Emeryville, CA (San Francisco) - Reno - Elko - Salt Lake City - Denver - Omaha - Mt. Pleasant - Chicago | 51:20 |
| Capitol Corridor | 518 - 551, 720 - 751 | San Jose - Oakland - Emeryville (San Francisco) - Richmond - Sacramento - Roseville - Auburn | 3:15 |
| Coast Starlight | 11,14 | Los Angeles- Santa Barbara - Oakland - Sacramento - Redding - Portland - Northwest Seattle | 35:00 |
| Pacific Surfliner | 562 - 597, 761 - 796 | San Diego - Irvine - Anaheim -Los Angeles - Van Nuys - Ventura - Santa Barbara - San Luis Obispo - Paso Robles | 5:45 |
| San Joaquins | 701 - 718 | Bakersfield* - Fresno - Merced - Modesto - Stockton - Oakland/Sacramento | 6:15 |
| Southwest Chief | 3, 4 | Los Angeles - Flagstaff - Albuquerque - La Junta - Topeka - Kansas City - West Chicago | 40+ |
| Sunset Limited | 1,2 | Los Angeles - Tucson - Deming - Houston - New Orleans - Mobile - Orlando | 68:00 |
| Texas Eagle | 21, 22, 321, 322, 421, 422 | (Los Angeles) - San Antonio - Dallas - Little Rock - St. Louis -Chicago | 65:20 |
* The San Joaquins also offer connections via motor coach from Bakersfield to Santa Barbara, Las Vegas, Los Angeles, Anaheim and San Juan Capistrano; from Merced to to the Yosemite National Park; and to San Francisco.
In fiscal year 2006 the Pacific Surfliner (San Diego-Los Angeles-San Luis Obispo) served 2,657,773 passengers, and the San Joaquin (Oakland-Fresno-Bakersfield) served 799,879 passengers. Los Angeles Union Station was the fifth busiest station in the nation, serving 1,414,164 passengers. Sacramento ranked seventh serving 923,699 passengers, and San Diego ranked ninth serving 867,873 passengers. Overall California has the highest Amtrak usage of any state in the Country.
For more information visit the Amtrak website.
National Train Day
Since 2008, Amtrak has been sponsoring National Train Day as a coast to coast celebration at depots served by Amtrak throughout the country. Held in early May the event commemorates the May 10 completion of the Pacific Railroad in 1869. These events typically feature Amtrak passenger car displays, exhibits, activities for kids and model train displays. For more information visit the Natioinal Train Day website.
Is High Speed Rail Travel in California's Future?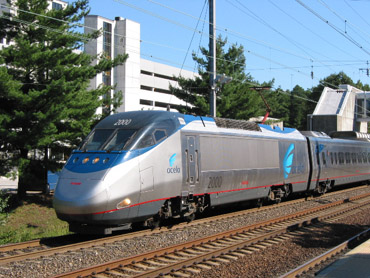 The California High-Speed Rail Authority was established in 1996, charged with the planning, designing, constructing and operating a state of the art high-speed train system in California.
As proposed the system will connect San Francisco, Oakland and Sacramento in the north -- with service to the Central Valley -- to Los Angeles and San Diego in the south. Bullet trains operating at speeds up to 220 mph are expected to reduce the express travel time from downtown San Francisco to Los Angeles to just under 2 ½ hours. Intercity travelers (trips between metropolitan regions) along with longer-distance commuters would enjoy the benefits of a system designed to connect with existing rail, air and highway systems.
According to California High-Speed Rail Authority plans, high-speed rail transportation can provide a fast, environmentally clean and friendly alternative to widening highways and increasing airport capacity to serve a growing population at a fraction of the cost. It is currently in the Environment Impact Report and route selection stages, which are expected to finish by Fall 2007.
Funding is hoped to come from a proposed State ballot measure which would provide $9 billion for the construction of the core segment between San Francisco and Los Angeles and an additional $950 million for improvements on local railroad systems which would serve as feeder systems for high speed rail mainline. The project would also depend on federal matching funds.
For more information visit the California High-Speed Rail Authority and the Association for California High-Speed Trains websites.
Acela Express high-speed service has been operating between Washington, D.C. and Boston via Baltimore, Philadelphia, and New York along the Northeast Corridor in the Northeast United States since December 2000. The tilting design allows the train to travel at higher speeds on the sharply curved NEC without disturbing passengers, by lowering lateral G-forces. The trains travel as fast as 150 MPH on some sections of track.
Via Rail Canada:
Via Rail Canada, established in 1977, manages former Canadian Pacific and Canadian National passenger rail service in Canada. Via Rail Canada provides Canadians with safe, efficient and environmentally responsible public transportation. VIA operates up to 503 trains weekly on 12,500 kilometres of track, and serves 450 communities across the country, at 159 railway stations, from coast to coast and north to Hudson Bay. VIA carried close to 4.2 million customers in 2007.
In Western Canada, VIA provides year-round, all-weather services, including the legendary Canadian train operating between Toronto and Vancouver three times per week. VIA also operates regional services in the West, between Jasper, Alberta and Prince Rupert, British Columbia; between Winnipeg and Churchill, Manitoba; and between Victoria and Courtenay on Vancouver Island. In 2006 VIA introduced a new winter season service between Edmonton and Jasper, Alberta.
In the Quebec City - Windsor Corridor, VIA provides intercity passengers with fast, convenient and affordable service, downtown-to-downtown between Canada's largest business centres. More than 355 Corridor trains run per week, carrying 80 percent of VIA's total ridership.
VIA also operates trains to remote communities in northern Quebec and Ontario, on routes designated by the Government to meet regional transportation needs.
In Eastern Canada VIA provides train service three times per week between Montreal and Gaspé on board the Chaleur, and six times per week between Montreal and Halifax on board the Ocean. The Ocean is a full-service overnight train recently equipped with new, state-of-the-art passenger cars.
For more information visit the Via Rail Canada website.
Railroads Today: Passenger Travel Commuter Travel
Sharing A Heritage Railroad History Train Technology Railroad Operation Railroad Time Museums & Heritage Railroads Railroads Today



Pacific Time

Top and center photos and text by Richard Boehle.
Entire website copyright 2002-2015, DigitalNetExpress.com, Burbank, California.