American Manufactures produce Watches for Railroad Use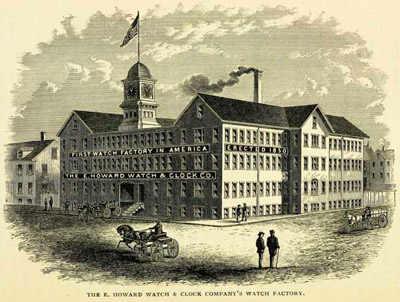 The development of the watch manufacturing in America is an early part of the story of the emerging factory system using automatic machinery to produce products and interchangeable parts. It was among the earliest industries to develop these techniques to a high level, supported by the demand for a moderately priced watch, which was in part furthered by the growth of the railroads.
Railroads operated using a timetable in order to avoid collisions between trains and to move trains efficiently over the railroad lines. Ensuring that the railroad workers who were responsible for the movement of trains knew the precise time while the train was moving was also critical to safe railroad operation using timetables.
Initially the American railroads ordered watches from England. In 1850 the Boston and Providence Railroad ordered 45 English watches, from Bond & Son, Boston. The Pennsylvania Railroad also purchased English watches. The English had a reputation for producing high quality watches. In England the watches were hand made by members of the craft guilds.
Boston Watch Company Produces First Watches with Interchangeable Parts
In 1849 Aaron Lufkin Dennison, Edward Howard and David Davis formed a company with a plan to use machinery to manufacture watch movement parts so precisely that they would become fully interchangeable. They initially outfitted space for design and manufacturing in Howard's clock factory in Roxbury, Massachusetts, a community neighboring Boston. In 1851 they moved to a new factory across the street from Howard's clock factory. Based upon the experience of earlier failed trials, Howard and Dennison eventually perfected and patented their precision watch making machines and created the American System of Watch Manufacturing.
In the spring of 1853 the first Dennison, Howard, & Davis watches were offered for sale to the public. The name was changed from Warren Mfg. Co. to Boston Watch Company in September 1853, and a new factory in Waltham, Massachusetts, north-west of Boston, was opened in October 1854. The company produced gilded full plate pocket watches ranging from 7 to 15 jewels which found acceptance in the industry, the first pocket watches produced in America of standard interchangeable parts, fostering growth until the country began experiencing a recession in 1856. Sales dropped, debts climbed and bankruptcy became inevitable. The Boston Watch Company was sold at auction in April 1857.
American Watch Company and E. Howard & Company both Emerge
Royal E. Robbins and D. F. Appleton, New York watch wholesalers, along with Tracy and Baker, watch case manufactures in Philadelphia, purchased The Boston Watch Company factory and part of the other assets at the auction. As majority owner, Robbins reorganized the company as Appleton, Tracy & Co. Aaron Dennison remained in Waltham as the superintendent of the mechanical department.
The 1857 Model was the first pocket watch produced, it was essentially the same movement as was produced by the Boston Watch Company. It was an 18-size watch which wound with a key on the back side of the watch, and set with a key from the front. In 1859 Appleton, Tracy & Co. merged with the Waltham Improvement Co. to form the American Watch Company (later renamed the American Waltham Watch Company).
The remaining Boston Watch Company material and watches in progress, along with some of the watch making machinery were acquired by E. Howard & Co. Returning to the old factory building in Roxbury, they completed the remaining Boston Watch Company movements they had acquired, and retooled the machinery for the production of a new watch of Howard's design, a high quality watch that was entirely different from previous watches.
The Civil War provided impetus for growth in watch sales, especially for the American Watch Co. which produced a range of watches including moderate priced and high quality watches. Under Robbins leadership the company gradually added less expensive 11 and 7 jewels grade watches to their line.
In 1859 Belding Dart Bingham, N. P. Stratton, C. S. Mosely and Charles Vander Woerd left the American Watch Company to form the Nashua Watch Company, in Nashua, New Hampshire. The Nashua Watch Co. succeeded in desiging a high grade precision timekeeper and the machinery to build it, but failed financially. In 1862 the American Watch Company absorbed the Nashua Watch Company, including Nashua's superior machinery, creating a separate department to produce high-grade watches. A new wing was added to the Waltham factory to house the Nashau Department where high grade watches were produced independently from the rest of the factory.
E. Howard & Co. continued to focus on high quality rather than quantity and also survived.
National Watch Company incorporated in Chicago, 1864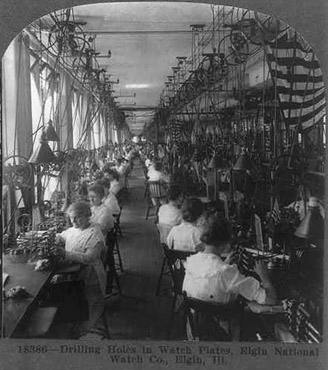 The National Watch Company was first incorporated in Chicago, Illinois, in 1864. The first movement, delivered in 1867, was named the B.W. Raymond in honor of Benjamin W. Raymond, one of the founders and past Chicago mayor. The watch was an 18-size, 15-jewels, key wind, key set, full plate design (later assigned grade 69). By 1870 the plant was turning out 25,000 watches each year and employed nearly 300 men and 200 women. During the early part of the 1870's the factory was enlarged. By late 1873 the product line included at least 14 different grades and production was estimated at 100,000 movements per year.
The company officially changed its name to the Elgin National Watch Company in 1874, as the Elgin name had come into common usage for their watches. During the mid-1870's the company developed a lower priced line of watches. Elgin became best known for producing the "working man's" mid-grade watches, they also produced a number of high grade watches including the popular B. W. Raymond grade.
American Made Watches selected for Railroad Service
Some of the earliest high quality American machine-made watches went right into railroad service. In 1866 the Pennsylvania Railroad ordered a group of Model 1857 Appleton, Tracy & Co. grade 15-jewels watches from the American Watch Company, the first American watches specifically made for railroad use. In 1867 some of the B.W. Raymond grade 15-jewels movements were built with Pennsylvania Rail Road on the dial for service on the Pennsylvania Rail Road.
Standardization of watch sizes also allowed the internal watch movements to be sold to the local watchmakers or jewelry stores separately from the cases, allowing the railroad workers to select a watch movement with the case design and manufacture of their choice.
Other American Manufactures Begin to Produce Watches for Railroad Service, 1865-1870's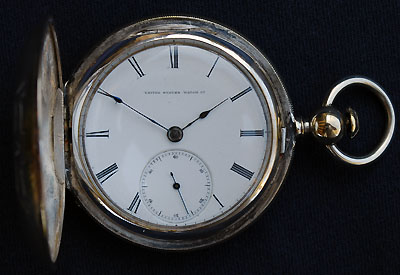 The United States Watch Company, Marion, New Jersey, was initially formed by Giles, Wales and Company, jewelers in New York City. The watch company was chartered in 1865, a new factory was completed the following summer. The first watch, a 18-size full plate movement, named the Frederick Atherton, shipped in July 1867. The finer grades were adjusted to heat, cold and positions. The company also manufactured high quality 3/4 plate movements, the finest being the 16-size, 19-jewel United States which was adjusted to heat, cold, positions and isochronism. Attempting to recover from financial challenges, the company was reorganized as the Marion Watch Company in 1874, and as the Empire Watch Company in 1876, it's factory ultimately closed permanently in 1877.
The New York Watch Company was originally founded by Don J Mozart and a group of investors in Providence, Rhode Island in 1864. In October 1867 the Company reorganized and moved to Springfield, MA. One of the Company's highest grade watch movements was the 18-size, 15-jewel Rail-Way grade. The Hampden Watch Company came into existence following a reorganization of the New York Watch Manufacturing Co. in 1877, continuing to produce the renamed Railway grade. In 1886 John C. Dueber's Dueber Watch Case Manufacturing Co. of Newport, Kentucky purchased a controlling interest in the Hampden Watch Co. In 1888-1889 both operations were moved to a pair of adjacent factory buildings in Canton, OH. Hampden was the first to mass produce and heavily promote 17-jewel watches. In 1891, Hampden created an advertising campaign for their new line of 17-jewel watches that lasted for years.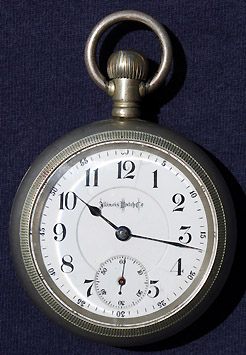 The Springfield Watch Company was first established in December 1869, by John C. Adams of Massachusetts, and John Todd Stuart, William B. Miller, Dr. George Pasfield, John Whitfield Bunn, John Williams, and George N. Black, all of Springfield, Illinois. John Todd Stuart, former Congressman and early law partner of Abraham Lincoln, served as the first President of the new corporation. The first watches were completed in January 1872. These models were made by D. G. Currier and J. K. Bigalow, and were 18 size, full plate, key wind. They were called the Stuart, Bunn, Miller, Currier, Hoyt and Mason. The company was reorganized in the autumn of 1878, and was renamed the Illinois Watch Company. In 1903 the Illinois Watch Company stopped producing its lowest priced watches, focusing on producing moderate priced watches and high grade watches to meet the exacting requirements of railroad service. The Bunn family surname was used in their most famous railroad watch, the Illinois Bunn Special.
The Cornell Watch Co. was formed in 1870 by Paul Cornell, a real-estate dealer in suburban Chicago, along with J.C. Adams. J.C. Adams obtained the plant of the Newark Watch Co. (Newark, NJ) and had it shipped to Chicago, to be installed in a newly built factory in 1871. Cornell manufactured a range of ten grades of 18-size watches. The Cornell Watch Company reorganized and relocated to San Francisco in 1874. The Cornell Watch Co. of San Francisco encountered financial difficulties and closed in 1876.
The Rockford Watch Company was organized in 1874 in Rockford, Illinois. Former Cornell Watch Company employees, P. H. Wheeler (Wheeler's Patent, etc) and C. W. Parker became key employees establishing Rockford. The first Rockford watch, a key-wind, 18-size, full plate with expansion balance was released in May 1876. The company had 40 employees and was soon turning out 10 watches per day, all 18-size, in five different grades. By 1877, the company was producing 3/4 plate nickel movements. The company sold directly to retailers. Rockford watches were advertised in railroad journals and were popular with railroad workers, with 3 railroads going through Rockford.
American Watch Industry continues to grow during the 1880's
In 1882 the Columbus Watch Company, which was founded by Dietrich Gruen, began to manufacture movements in a newly-built factory in Columbus, Ohio, including 18-size movements which were marketed as "finely adjusted and just the thing for railway service."In 1894, following the financial panic of 1893, the Columbus Watch Company went into receivership, operating with new management until 1903, producing watches under the names Columbus Watch Company and New Columbus Watch Company.
The Aurora Watch Company, of Aurora, Illinois, was incorporated in June, 1883. The capital stock was largely owned and controlled by retail dealers who handled the product. The concept was to interest one dealer in each town to become a stock holder and in turn have exclusive rights to sell Aurora Watch Co. watches. The first movements were sold by the owner-dealers in the fall of 1884. Aurora manufactured 18-size, full plate movements, with a quick train, in various grades. An Aurora Watch Co. advertisement in December 1987 stated "Five Grades especially adapted to the Requirements of Railway Service." The higher grade Aurora 18-size watches were used in railroad service. Aurora also manufactured low and medium priced grades, including some 6-size movements.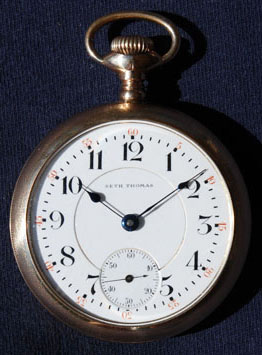 In 1883-1884 the Seth Thomas Clock Co., Thomaston, CT, built an addition to its existing factory on the corner of Marine Street and Bridge Street in order to manufacture jeweled pocket watches. Most of the tooling for the watch factory was built using the production facilities of the Seth Thomas clock factory. The first watches were offered for sale in 1885. A full line of Seth Thomas watches were produced, including high grade watches for railroad use, however, the primary production was inexpensive jeweled watches.
The Independent Watch Company of Fredonia, New York, was an outgrowth of a catalog business run by brothers Edward D. and Clarence M. Howard. Around 1880 the company began manufacturing watches using machinery and designs which were merged from the Newark Watch Company, Newark, New Jersey and United States Watch Company of Marion, New Jersey. In 1883 J. C. Adams became involved, the company, it was reorganized as the Fredonia Watch Company, machinery was upgraded and a new line of watches was produced, yet sales remained slow. The Peoria Watch Company of Peoria, Illinois was formed in 1885 by Clarence Howard, J. C. Adams, Joseph B. Greenhut, Lydia Bradley and several Peoria investors. The Peoria Watch Company purchased the machinery of the Fredonia Watch Company and relocated it to a new factory in Peoria. In 1888 Peoria entered into an arrangement with A. C. Smith to producing high grade 18-size watch movements for Smith's Non-Magnetic Watch Co. of America. The Peoria Watch Company primarily produced watches for railroad use along with moderate priced watches until closing in 1891.
The U.S. Watch Company of Waltham, Mass. began business as the Waltham Watch Tool Company in 1879, and was reorganized as the U.S. Watch Company in 1885. The founders of the company were Charles V. Woerd, formerly of the American Waltham Watch Company, and the Nutting Brothers, owners of a watch tool and machinery company in Waltham. Production continued until the company ceased operations just after the turn of the century. The U.S. Watch Company was purchased by the Philadelphia Watch Case Company in 1901. The U.S. Watch Co. factory was enlarged and all Suffolk machinery and employees were moved to it. Watch production continued under the name United States Watch Co. through 1904.
Railroad Industry Demand for Accuracy Fosters Growth and Improvements, 1890's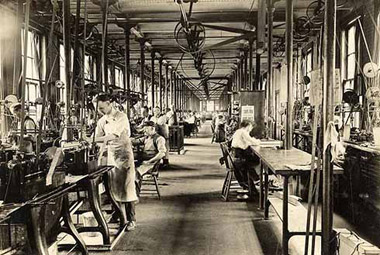 A head-on train collision occurred on April 18, 1891 on the Lake Shore and Michigan Southern Railway at Kipton, 40 miles west of Cleveland, Ohio, which made headlines across the country. The collision brought national attention to railroad timekeeping and operating practices which provided little room for errors. While accurate 15-jewel, adjusted watches with a patent regulator were already the standard on many lines, their use and maintenance was not universal.
American watch companies strove to produce increasingly accurate watches for the railroad industry. In 1891, Dueber-Hampden created an advertising campaign for their new line of 17-jewel watches that lasted for years. Other manufactures soon upgraded their own high grade watch offerings to include 17-jewel watches.
The Hamilton Watch Company came into existence as a result of a reorganization of the Keystone Standard Watch Company and merger with the Aurora Watch Company of Illinois in 1892. The first watch made under the Hamilton name was an 18-size 17-jewel pocket watch in 1893. From the start, the Hamilton Watch Co. positioned itself as a manufacturer of quality watches for the railroad market. For about 50 years, over 50% of the pocket watches it produced were the high grade necessary for use in the railroad market.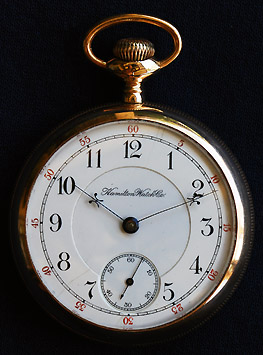 Webb C. Ball, a Cleveland jewelry store owner, was commissioned by the Lake Shore and Michigan Southern Railway as their Chief Time Inspector following the train accident at Kipton, Ohio on April 19, 1891. Ball's original jewelry business in Cleveland grew into the Ball Watch Company. Ball used movements from the top American watch manufacturers, which were ordered to his specifications, and resold then under the Ball brand name. Official RR Standard (ORRS) was Ball's trade mark grade name for railroad grade watches.
The assets of the bankrupt Columbus Watch Company were purchased by brothers Clement Jr. and George Studebaker in 1903 who created the South Bend Watch Company in South Bend, Indiana. Perhaps the best known South Bend watches were "The Studebaker" grades, the open-face, 18-size of which (grades Nos. 323 and 329) were introduced by ads in 1910. "The Studebaker" was a railroad grade watch, widely accepted for railroad time service.
The Keystone Watch Case Company purchased the Howard name in association with watches in 1903. There were no patent rights transferred, just the Howard name. Keystone began production of Keystone "E. Howard Watch Co." watches in the former U.S. Watch Company factory in 1905. Howard Watch Co. watches were marketed directly to railroad workers through railroad trade magazines. These watches were high quality, 16-size, 17 to 23 jewel watches, sold as complete watches only i.e. they were cased and timed at the factory.
Popularity of 16-size movements had increased after the establishment of railroad standards in 1892, reaching 15% of production by the turn of the century. Total 16-size watch movement production exceeded 18-size watches by 1915.
American Watch Industry faces challenges
Facing difficult competition from other low cost watch manufactures, Seth Thomas watch production was discontinued in 1914.
The Rockford Watch Company closed their doors in 1915.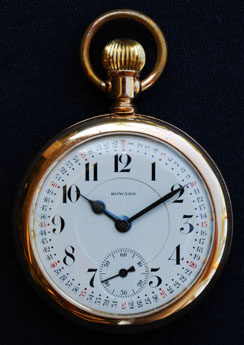 In 1928, for a sum in excess of $5,000,000, the Illinois Watch Company was purchased by the Hamilton Watch Company, which continued to operate the factory under the Illinois name and shifted the emphasis from pocket to wrist watch production. The Illinois Watch Company had turned out about five million watches before being sold to the Hamilton Watch Company.
The stock market crashed on October 29, 1929, later named Black Tuesday, widespread financial hardship and troubles followed.
The South Bend Watch Co. factory shut its doors in December 1929.
The Dueber Watch Case Manufacturing Co. and Hampden Watch Co. businesses which were formally combined 1923, however, falling sales led to receivership in 1927. Dueber-Hampden manufacturing equipment, parts on hand, and work in progress were sold to Russia, operations ceased in 1930.
By November 1932, the Great Depression forced Hamilton to close the Illinois factory, though they retained possession of the brand name.
By the end of the Great Depression only three American jeweled watch manufactures survived. Hamilton continued to be successful, buying the trademarks of the E. Howard Watch Company in 1931. Waltham Watch Co. and Elgin Watch Co. also continued to successfully manufacture a variety of jeweled watches. The Ball Watch Co. also continued to be successful and sell watches for railroad service.
Railroad Grade Wrist Watches Gain Acceptance
During World War 1 (WWI) soldiers were given wrist watches, often referred to as trench watches, which could be more easily read when the soldiers hands were full. These watches were made with pocket watch movements that were adapted to be strapped to a soldiers wrist. After the war the more convenient wrist watches became popular for civilian use, with wrist watch sales dominating watch sales to the general public by 1930.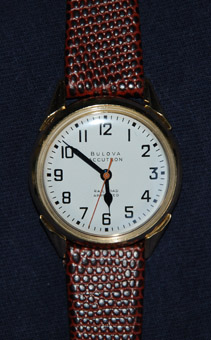 Railroad grade pocket watches remained the only watches approved for railroad service until the late 1950's when railroad grade wrist watches were developed that could maintain the same accuracy. The "Trainmaster" with a Swiss made 21 jewel movement, introduced by Ball in 1959 and the "B.W. Raymond" with a 23 jewel American made movement, introduced by Elgin in 1960, were both high grade manual-wind wrist watches that were gradually approved for use on most American railroads.
In 1962 Bulova introduced a railroad-approved version of their Accutron tuning-fork wrist watch using an electronic "214" movement. Hamilton also produced a railroad electric wrist watch using a Hamilton 505 movement which was briefly approved for use on some railroads, although it was later withdrawn due to issues with reliability.
American Railroad Pocket Watch Production Ends
Following World War II imported Swiss watches had become increasingly popular in the United States. Production of the Waltham Vanguard grade watch ended in 1953. The Waltham Watch Company founded a subsidiary in Switzerland in 1954, but Waltham ultimately went out of business in 1957. Elgin discontinued watch manufacturing in the US in 1968.
The last American railroad pocket watch was the grade 992B sold by the Hamilton Watch Co. in 1969. Watch production ceased in the U.S. in 1969, with the closure of the Hamilton factory in Lancaster, although watches were still being assembled from parts and finished for several more years. Hamilton watch manufacturing operations were moved to the Buren Watch Co. factory in Switzerland, which Hamilton had acquired in 1966.
Quartz Movements Maintain Accuracy at a Lower Cost
SEIKO began manufacturing pocket watches for railroad service on the Japan National Railways in Japan since 1929. Seiko also manufactured high quality mechanical wrist watches. The world's first quartz wrist watch, the Seiko Quartz Astron was introduced in Tokyo in December 1969. Seiko continued to develop wrist watches with a quartz movement in the early-1970's. The inherent accuracy and low cost of production has resulted in the proliferation of quartz clocks and watches since that time.
Today railroad employees can purchase SEIKO, Citizen, Pulsar and Invicta quartz wrist watches with railroad approved dials.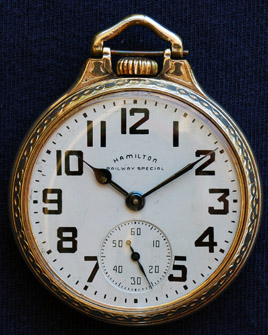 Ball's Cleveland jewelry Story continued to operate until 1962. The Ball Watch Co. was family owned by direct descendants until the 1990s when the right to use the name was sold. The new firm continues to sell Ball watches, using Swiss-made (primarily ETA) high grade mechanical movements designed for sportsmen and railroads workers. The Ball product line continues to include Official Railroad Watches, perpetuating the traditions of the early BALL timekeepers.
For Additional Reading:
Abbott, Henry G. The Watch Factories of America Past and Present: A complete history of Watch Making in America, from 1809 to 1888 Inclusive. Geo. K Hazlitt & Co. Chicago, 1888, reprinted by Forgotten Books, Lexington, KY, 2012.
Crossman, Charles S. The Complete History of Watch Making in America, Reprinted from Jewelers' Circular and Horological Review 1885 - 1887. Adams Brown Co. Exeter, New Hampshire.
Harold, Michael C. American Watchmaking: A Technical History of the American Watch Industry 1850-1930. A supplement to the Bulletin of the National Association of Watch and Clock Collectors, Inc., Number 14, Spring 1984, Columbia, PA.
Watch Manufactures:
Aurora Ball Columbus Elgin National Hamilton Hampden E.Howard Illinois Peoria Rockford South Bend Seth Thomas U.S.Marion U.S.Waltham
Sharing A Heritage Railroad History Train Technology Railroad Operation Railroad Time Museums & Heritage Railroads Railroads Today



Pacific Time

Illustrations: 1) E Howard Watch & Clock Co. Watch Factory, Roxbury, 1888, from Abbott, Henry G. The Watch Factories of America Past and Present: A complete history of Watch Making in America, from 1809 to 1888 Inclusive. Geo. K Hazlitt & Co. Chicago, 1888, 2) Model 1857 Appleton, Tracy & Co. mfg 1865, 3) Drilling Plates at the Elgin National Watch Factory, 4) U S Watch Co, United States Watch Co. Marion, New Jersey, Model 1, A. H. Wallis, circa 1872, 5) Illinois Bunn Special, mfg. 1901, 6) Flat Steel Room at the Hampden Watch factory, 7) Hamilton 992E with an Elinvar hairspring, mfg 1936, 8) Bulova Accutron 214 exectronic wristwatch introduced in 1962. Part of the material used for research courtesy of the National Association of Watch and Clock Collectors Library and Research Center. Watch photos and text by Richard Boehle, a special thank you to the private collectors for the use of the watches photographed.
Entire web site copyright 2002-2015, DigitalNetExpress.com, Burbank, California.