Railroad Depot Museums to Visit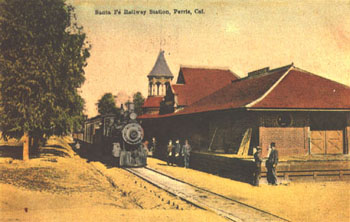 Some railroad depots have been preserved as local history museums, most include local railroad history exhibits, some also include model train exhibits. For specific questions about the museums, visitor hours, school arrangements or their collections, please visit their web site or contact them directly. Please note that hours may vary, calling first is recommended.
Southern California:
Northern California:
Nebraska:
Nevada:
New Mexico:
South Dakota:
Texas:
Washington:
Railroad Museum Associations:
Please note that RailsWest.com and Digital Network Express do not control the content of linked web sites, the organizations who own these web sites accept sole responsibility for their content.
Preservation: Rail Transportation Museums Heritage Railroads Depot Museums American West History Museums
Sharing A Heritage Railroad History Train Technology Railroad Operation Railroad Time Museums & Heritage Railroads Railroads Today



Pacific Time


Photo of the Perris, CA Depot is from a vintage postcard, courtesy of Orange Empire Railway Museum.
Entire web site copyright 2002-2015, DigitalNetExpress.com, Burbank, California.