Ball Watch Co, Cleveland, Ohio
Webb C. Ball Co.
Webb C. Ball bought an interest in Whitcomb and Metten Jewelers in Cleveland in 1879. By 1881 he had become the sole owner of the Webb C. Ball Co., which consisted originally of 2 showcases and a workbench at Superior Ave. and Seneca (W. 3rd) St.
After Standard Time was adopted by the railroads in 1883, Ball became the first Cleveland jeweler to use time signals sent from the Naval Observatory in Washington, D. C. Ball was also the first Cleveland jeweler to purchase and display a chronometer, which allowed people passing in front of his store to check the time.
Webb C Ball was Chief Time Inspector and developed a time inspection system for railroads centered in the Cleveland area. A January 1891 advertisement listed Ball as the "Official Watch Inspector and Time keeper" for six railroads. The Webb C. Ball Co. was incorporated in 1891 as a wholesale and retail jewelry business. In 1891 the store was expanded by adding two stories to the building, making it a total of four stories.
Ball was commissioned by the Lakeshore and Michigan Southern Railway as their Chief Time Inspector following horrible train accident near Cleveland, Ohio on April 19, 1891 which pointed out that the nation's railroads were not all running on reliable timepieces. Ball was asked to investigate "time and watch" conditions throughout the line. Ball requied watch inspection every two weeks and rejected watches which did not meet standards in order to ensure accuracy and facilitate safe railroad operation.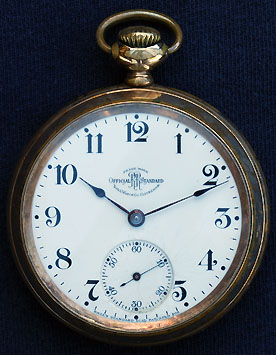 Ball promoted watch standards and built a watch inspection service, the Ball Railroad Time Service, to ensure watch accuracy on a number of railroads. The actual inspectors were the same jewelers who were Ball Watch Co. dealers to whom Ball was distributing watches and jewelry. According to Ball in a copyrighted interview by James B Morrow in 1910, his service grew to control the inspection of watches railmen used on 125,000 miles or railroad lines, about half of the U.S.'s railroads, although the accuracy of this statement has been questioned. Ball also contributed to the nationwide acceptance of the General Railroad Timepiece Standards adopted by the railroad industry in 1893. Ball was honored for his accomplishments by the Brotherhood of Locomotive Engineers.
Ball Watch Company
Ball's original jewelry business in Cleveland grew into the Ball Watch Company. Ball used movements from the top American watch manufacturers, including Hampden, Elgin, Hamilton, and Waltham, which were ordered to his specifications, and resold then under the Ball brand name. Official RR Standard (ORRS) was Ball's trade mark grade name for railroad grade watches. The final testing and adjusting of almost all Ball watches was done by Ball, not the original manufacturer.
Initially Ball marketed only 18-size Ball's Standard Railroad Watches, an 1890 advertisement indicated they were made by Dueber-Hampden Works, "being accurately adjusted to heat and cold, and six positions, they are more reliable, more durable, and particularly desirable for the services of engineers and conductors".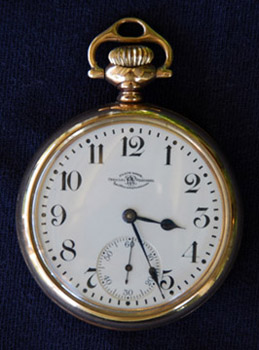 In 1893 Ball began ordering watches manufactured by E. Howard & Co. and in 1895 began ordering watches manufactured by Hamilton Watch Co. Around 1904 Ball started marking movements by Hamilton with grade 999, named after New York Central and Hudson River Railroad's Empire State Express Locomotive No. 999, which set a speed record of 112-1/2 miles per hour, just west of Batavia, NY on May 10, 1893.
Ball began marketing smaller 16-size Official Standard watches, which were built by Waltham, starting in about 1899. Ball stopped ordering the larger 18-size ORRS watches around 1910 or 1911 and was promoting the trade-in of 18-size watches for 16-size ones by 1917.
In the mid-1950's Ball had standard watches made by the Record Watch Co. These were calibers 435, 435B and 435C. They were the first Swiss watches to see widespread use in the U.S. since the development of railroad watch standards, and were just about the only standard pocket watch in service in the U.S. to have been fitted with an Incabloc (or any other) anti-shock system.
Ball switched to Swiss Avia movements as early as the 1940s in their wrist watches. The "Trainmaster" with a Swiss made 21 jewel movement, introduced by Ball in 1959, was a high grade manual-wind wrist watch that was gradually approved for use on most American railroads. Ball later added a 25-jewel self-winding version of the watch.
The Ball Watch Co. also sold high quality regulator clocks manufactured by the top American clock manufactures including the Seth Thomas Clock Co., E. Howard Clock Co. and Chelsea Clock Co. under the Ball brand name.1 Clocks sold by Ball were used as standard clocks and station clocks in railroad stations and other railroad facilities throughout the United States.
Ball's Cleveland jewelry Story continued to operate until 1962. The firm was family owned by direct descendants until the 1990s when the right to use the name was sold. The new firm continues to sell Ball watches, using Swiss-made (primarily ETA) high grade mechanical movements designed for sportsmen and railroads workers. The Ball product line continues to include Official Railroad Watches, perpetuating the traditions of the early BALL timekeepers.
Ball Watch Production Dates by Serial Number
Note: These are approximate dates, actual dates may vary by years. The serial number being referred to is the serial number on the movement of the watch, not the case.
| Ball - Hampden | Ball - E. Howard | Ball - Hamilton | Ball - Waltham | Ball - Elgin | Ball - Illinois |
| --- | --- | --- | --- | --- | --- |
| 1890 - 626,750 | 1893 - 226,000 | 1895 - 13,000 | 1900 - B060,700 | 1904 - 11,853,000 | 1929 - B800,000 |
| 1891 - 657,960 | 1895 - 308,000 | 1897 - 20,500 | 1905 - B202,000 | 1905 - 12,067,000 | 1930 - B801,000 |
| 1892 - 759,720 | | 1900 - 42,000 | 1910 - B216,000 | 1906 - 12,282,000 | 1931 - B803,000 |
| | | 1902 - 170,000 | 1915 - B250,000 | | 1932 - B804,000 |
| | | 1905 - 462,000 | 1920 - B260,000 | | |
| | | 1910 - B600,000 | 1925 - B270,000 | | |
| | | 1915 - B603,000 | | | |
| | | 1920 - B610,000 | | | |
| | | 1925 - B620,000 | | | |
| | | 1930 - B637,000 | | | |
| | | 1935 - B641,000 | | | |
| | | 1938 - B647,000 | | | |
| | | 1939 - B650,000 | | | |
| | | 1940 - B651,000 | | | |
| | | 1941 - B652,000 | | | |
| | | 1942 - B654,000 | | | |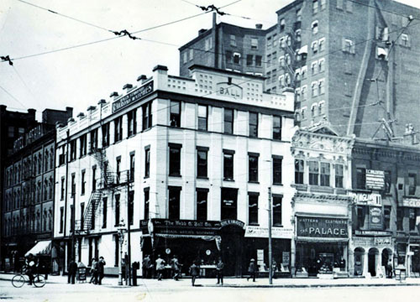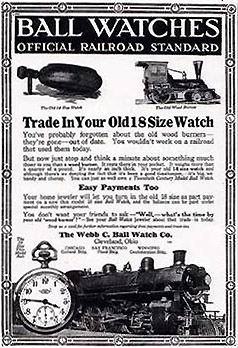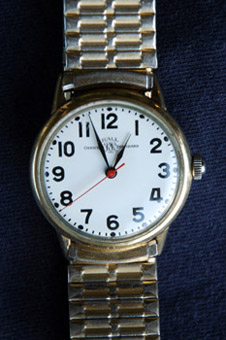 Links to other sites for additional information:
Pocket Watch Database: - Serial number lookup and information for Ball, Elgin, Hamilton, Hampden, Illinois, Rockford, South Bend and Waltham.
References:
Ed Ueberall and Kent Singer, Railroaders' Corner - The Ball Watch Story (four parts), Bulletin of the National Association of Watch and Clock Collectors, Inc.; No. 338, June 2002, pp. 349-356; No. 339, August 2002, pp. 479-490; No. 340, October 2002, pp. 619-627; No. 341, December 2002, pp. 773-782.

Robert P.Winslow, Webb C. Ball Watch Railroad Watch Inspection System, Bulletin of the National Association of Watch and Clock Collectors, Inc. No. 310, October 1997, pp. 539-553.
1 Krause, James. "Clocks of the Webb C. Ball Watch Company" NAWCC Bulletin No. 331, April 2001, pp 164-166.
Watch Manufactures:
Aurora Ball Columbus Elgin National Hamilton Hampden E.Howard Illinois Peoria Rockford South Bend Seth Thomas U.S.Marion U.S.Waltham
Sharing A Heritage Railroad History Train Technology Railroad Operation Railroad Time Museums & Heritage Railroads Railroads Today



Pacific Time

Part of the material used for research courtesy of the National Association of Watch and Clock Collectors Library and Research Center. Watch photos and text by Richard Boehle, a special thank you to the private collectors for the use of the watches photographed.
Entire web site copyright 2002-2015, DigitalNetExpress.com, Burbank, California.