Aurora Watch Co. Aurora, Illinois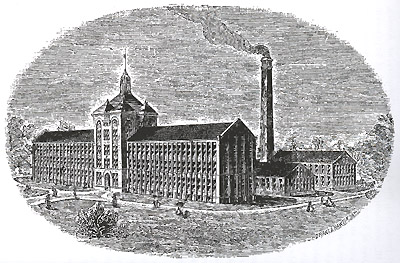 The Aurora Watch Company, of Aurora, Illinois, was incorporated in June, 1883, with capital stock of $250,000, in shares of $100 each. The capital stock was largely owned and controlled by retail dealers who handled the product. The concept was to interest one dealer in each town to become a stock holder and in turn have exclusive rights to sell Aurora Watch Co. watches. The incorporators were E. W. Trask, A. Somarindyck, F. L. Pond, H. H. Evans, D. F. Van Liew, H. Miller and A. J. Hopkins. E. W. Trask was the first president, Geo. F. Johnson was the first superintendent. Charles Clifford Hinckley was the first foreman of the Jewel and Motion Department.
The town of Aurora gave the company a plot of ground to build a factory, the machine shop was completed in September 1883, work on tools soon commenced. The three story main building was completed in February, 1884.
The first movements were ready to be sold by the stockholder-dealers in the fall of 1884. The first movements were 18-size full plate, both in gilt and nickel. The company, which normally employed between 150 to 200 employees, was capable of producing about 100 to 150 movements per day.
Aurora manufactured 18-size, full plate movements, with a quick train, in various grades. An Aurora Watch Co. advertisement in December 1987 stated "Five Grades especially adapted to the Requirements of Railway Service." The highest grades No. 10 and No. 11 were marked "15 Ruby Jewels - Adjusted". The next highest grades No. 12, No. 8, and No. 6 were marked "15 Jewels- Adjusted". Aurora watches were reported to have had a good reputation, these higher grade Aurora 18-size watches were used in railroad service. The majority of movements produced, however, were medium priced 15-jewel, and lower priced 11-jewel, and 7-jewel grades.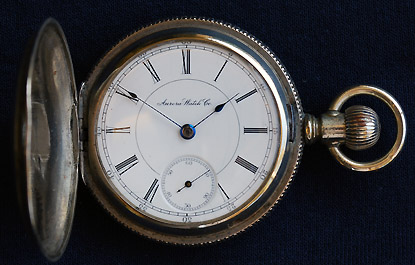 The U.S. Jewelers Guild selected Aurora to manufacture watch movements marked "Expressly for the Guild" beginning in May 1887. Guild watches included 11 grades, assigned grades No. 42 through No. 53. Grades No. 50 through No. 53 were 15-jewel, marked "adjusted"1 and some were in use for railroad service.
An Aurora "New Model" was introduced around late 1887, assigned grades No. 61 through No. 83.
Aurora went into receivership in late 1889.
In August 1890 a group of Aurora investors including Henry Cain and Charles D. Rood purchased the the Aurora Watch Company at auction. Cain became superintendent of the Aurora Watch Co. reopening the Aurora factory in October 1890. By mid-1891 Henry Cain began designing a new line of railroad style movements.2
The assets of the Aurora Watch Co., as well as the Keystone Standard Watch Company, were purchased by a group of investors who formed the Hamilton Watch Company. Aurora machinery was moved to the Hamilton factory in Lancaster, PA late in the Fall of 1892.
Between 1884 and November 1892 Aurora built an estimated 108,000 18-size watch movements3 and 8,000 6-size ladies watch movements4. Ladies watch movements were introduced in the Fall of 1888, assigned grades No. 33 through No. 38.
Aurora Production Dates by Serial Number
| | |
| --- | --- |
| 1884 - 10,001 | 1888 - 200,000 |
| 1885 - 60,000 | 1889 - 215,000 |
| 1886 - 101,000 | 1891 - 230,901 |
| 1887 - 160,000 | |
Note: These are approximate dates, actual dates may vary by several years. Aurora serial numbers were initially blocked by grade number, making the actual date difficult to determine. Ladies 6-size movements begin with serial number 150,000, starting in 1888. The serial number being referred to is the serial number on the movement of the watch, not the case.
For additional reading and references:
Abbott, Henry G. The Watch Factories of America Past and Present: A complete history of Watch Making in America, from 1809 to 1888 Inclusive. Geo. K Hazlitt & Co. Chicago, 1888, reprinted by Forgotten Books, Lexington, KY, 2012.
Crossman, Charles S. The Complete History of Watch Making in America, Reprinted from Jewelers' Circular and Horological Review 1885 - 1887. Adams Brown Co. Exeter, New Hampshire.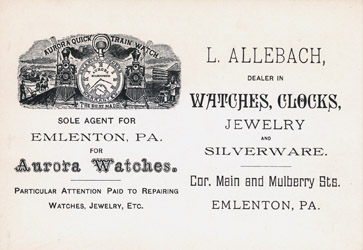 Frauenhoff, Greg. Aurora Watch Company - Grades and Production, 1st Ed. 1995, 2nd Ed. 2001.
Roy Ehrhardt & William Meggers, Jr., American Pocket Watches Beginning to End...1830-1980, Identification and Price Guide, Heart of America Press, Kansas City, MO, 1987.
1 Frauenhoff, Greg. Grade Description Table for the Aurora Watch Company's "Guild" Movements, Bulletin of the National Association of Watch and Clock Collectors, Inc. No. 265, April 1990, pg. 193.
2 Harrold, Michael C. (MA) Charles Rood and Henry Cain; Origins of the Hamilton Watch Company, NAWCC Bulletin No. 340, Octobber, 2002, pp. 547-570, Columbia, PA, 2002.
3 Hoke, Donald. The First Aurora Watch: A Preliminary Report on the Aurora Watch Company of Aurora, Illinois, Bulletin of the National Association of Watch and Clock Collectors, Inc. No. 189, August 1977, pp. 331-350.
4 Hoke, Donald. Aurora Watch Company Serial Number and Grade Identification Data, Bulletin of the National Association of Watch and Clock Collectors, Inc. No. 227, December 1983, pp. 724-733.
Watch Manufactures:
Aurora Ball Columbus Elgin National Hamilton Hampden E.Howard Illinois Peoria Rockford South Bend Seth Thomas U.S.Marion U.S.Waltham
Sharing A Heritage Railroad History Train Technology Railroad Operation Railroad Time Museums & Heritage Railroads Railroads Today



Pacific Time

Illustrations Top: Aurora Watch Factory, from Watch Factories of America by Henry G. Abbot, Photo: Aurora Watch Co. railroad grade watch, circa 1886 (private collection). Part of the material used for research courtesy of the National Association of Watch and Clock Collectors Library and Research Center.

Entire web site copyright 2002-2015, DigitalNetExpress.com, Burbank, California.